After years of suspended services, Ramadi residents are now lining up to officially register their real estate sale contracts at the Directorate of Real Estate and Land Registration.
Naeem al-Issawi, 55, said he finally managed to officially register ownership of his house on March 17th, after a long wait.
When the "Islamic State of Iraq and Syria" (ISIS) overtook Ramadi and large parts of Anbar province in May 2015, the terrorists wreaked havoc on the city and all government offices suspended operations as a result, he said.
The reopening of government agencies "is a must when it comes to returning to normalcy", he told Diyaruna, adding that he hopes to see further restoration of services throughout the province.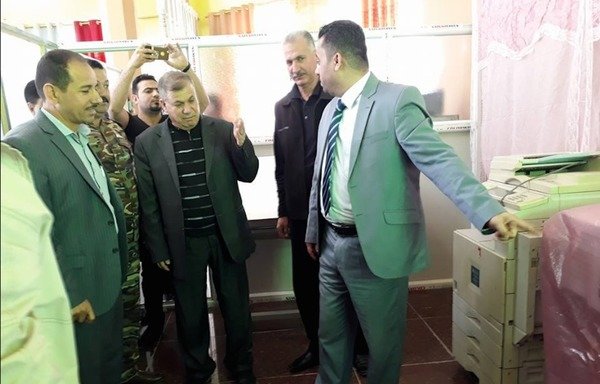 Ministry of Justice agencies reopen
Alaa Mohammed Hussain, director of the Directorate of Real Estate and Land Registration in Anbar, said most agencies associated with the Ministry of Justice, including his, have been rehabilitated.
The agencies have reopened their doors thanks to joint efforts between the Ministry of Justice and local authorities in Anbar, which observers say is a "positive development" towards stabilising liberated cities after suffering three years of ISIS's terror.
Residents can now register real estate contracts as well as process legal cases, complaints and requests for compensation, among other services related to protecting citizens' rights and interests.
The directorate started opening its doors to residents seeking legal services earlier this year, Hussain said.
"The Ramadi office was opened in addition to other branches in Fallujah, Heet, Haditha and most recently al-Rutba," he told Diyaruna on March 18th. "Some of these offices were bombed by terrorists and we managed to rehabilitate them with the support of Anbar's local government."
The directorate will soon open its branch in al-Qaim, as the building there was not damaged, Hussain said. Officials are also seeking to open two alternative locations in Anah and Rawa until the buildings there are rehabilitated and safe to use.
Prioritising public service delivery
Ramadi mayor Ibrahim al-Awsaj confirmed that all the offices of the Ministry of Justice would soon be open and running in the city.
"Since we liberated our city [in December 2015], the priority of the local government has been to reopen state agencies and provide services," he told Diyaruna.
"We have focused our efforts on supporting reconstruction and managed to reopen several damaged government buildings with the help of relevant government authorities," he said.
"All the legal and judicial offices are now providing services from their original headquarters rather than from temporary locations," al-Awsaj said.
"This has been a positive development and an important one towards reinforcing our efforts to provide a stable environment for people returning to their homes from refugee camps," he said.
"Functioning government agencies mean that law and order can be restored as people can feel that their rights are protected and that they can engage with the government in a transparent way."
"People need for the civil, appeals and criminal courts to work so they can register their marriage licenses as well as try criminals and have their public rights upheld," he said.
"They need real estate agencies to register ownership of their homes, land and their businesses, as well as notary services to process compensation for those affected by terrorism," al-Awsaj said.
'Closing the dark chapter of terrorism'
Fallujah mayor Issa al-Sayer said legal and judicial agencies in his city are now functioning normally and serving the people.
"This is proof that we are closing the dark chapter of terrorism," he told Diyaruna.
"This is an important tenet of maintaining stability and security for people after terrorists took over and deprived them of their rights, attacked them and confiscated their possessions," he said.