Iraq's Federal Police on Monday (April 2nd) announced they have secured a number of villages along the Kirkuk-Baghdad highway, amid a campaign to protect the thoroughfare that began Saturday.
The campaign, backed by army and international coalition aircraft, included large-scale searches for "Islamic State of Iraq and Syria" (ISIS) elements and their hideouts in villages around Suleiman Bek in eastern Salaheddine province.
Iraqi police searched eight villages in the area: Albu Ghanim, al-Hafriya, al-Qoushajia, Bir al-Thayb, al-Bassat, Jafat al-Aisha, Tall Kilaba, Laqoum and other small villages, said Federal Police Chief Maj. Gen. Raed Shaker Jawdat.
The searches, conducted along several different routes, resulted in the destruction of a tunnel containing high impact C-4 explosives, improvised explosive devices (IEDs), and equipment used in bombings, he told Diyaruna.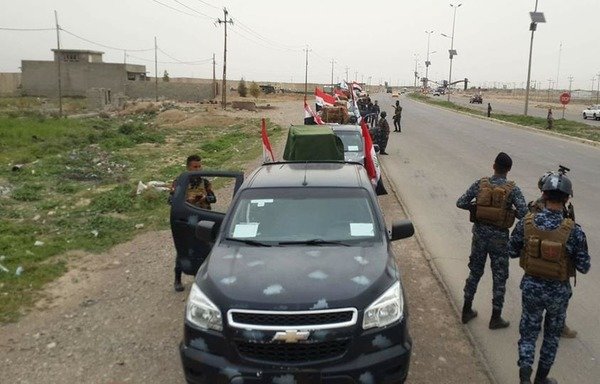 Police blew up five IEDs planted along the various routes and seized 10 explosive belts they found in one of the hideouts, he said.
One suspect has been apprehended, but the campaign has not yet resulted in further arrests, he said.
Sealing access points
Police are working to secure the entire area and close the gaps and passageways militants use to access the Kirkuk–Baghdad highway, Jawdat said.
The road stretches for about 760 square kilometres, from Kirkuk, through Salaheddine and Diyala, to Baghdad.
It passes through hills, valleys and dense orchards, areas which ISIS fighters have used as hiding places from which to launch attacks.
Security forces from all agencies continue their efforts to rid these areas of militants and eliminate any sources of threat, Jawdat said, noting that ISIS elements have taken to setting up ambushes to target travelers.
This has put travelers at risk along stretches of the highway, particularly in eastern Salaheddine and north-western Diyala, he said, expressing his confidence that Iraqi forces will be able to clear all areas from ISIS pockets.