A new group of Syrian opposition fighters and civilians prepared to leave Eastern Ghouta on Monday (March 26th) after the largest exodus yet from the opposition enclave, as talks stalled over the final pocket of resistance.
Five weeks since government troops launched a ferocious offensive on Ghouta, they hold more than 90% of the long-besieged opposition stronghold on the doorstep of Damascus.
A convoy of more than 5,400 fighters and civilians left a pocket of territory held by Faylaq al-Rahman late Sunday and reached north-west Syria the following day.
It was the single largest one-day evacuation yet from Eastern Ghouta, after hundreds were bussed out from the same area on Saturday.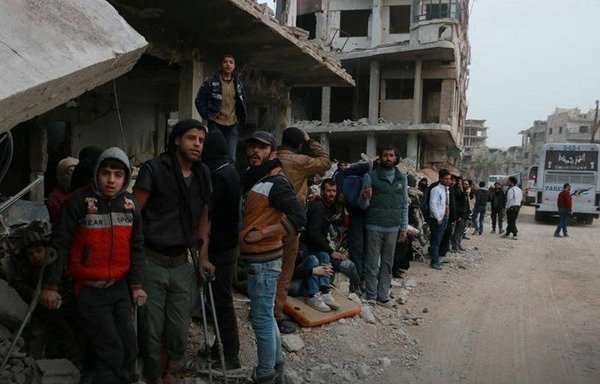 The convoy of 81 buses that left late Sunday began arriving at a staging ground on the edge of opposition territory in north-west Syria on Monday afternoon.
More pull-outs were expected Monday from the towns of Arbin and Zamalka and the neighbouring district of Jobar, all held by Faylaq al-Rahman.
The group's spokesman Wael Alwan on Monday confirmed that "the evacuations are continuing today", but could not provide detailed numbers.
More buses were ready Monday to take around 1,100 people, including fighters and several hundred children, out of the same area, according to state media.
Prevailing tensions
The evacuation Sunday was to have taken place at dawn, but prevailing tensions in the region delayed it until the afternoon, Eastern Ghouta-based relief activist Bahaa al-Sahli told Diyaruna.
Opposition fighters had set fire to the military headquarters they abandoned and their houses, triggering uncertainty about the situation, he said.
"But the mediation committee was able to calm the situation, and the evacuees were transported from the four areas to the Jobar crossing, which had been designated for the evacuation," he added.
The evacuation from Jobar began Saturday with 632 people, including opposition fighters and civilians, who headed for Idlib in north-west Syria aboard 10 buses, al-Sahli said.
The departure of civilians towards the regime-controlled area also is continuing, he said, with more than 500 civilians evacuated Sunday in vehicles designated for that purpose through al-Wafideen crossing.
"The evacuees are transported to a shelter in the vicinity of Damascus until a decision concerning their [security] situation is made," he said.
"Their security files will be examined, and those wanted for compulsory military duty will be summoned, while all will be investigated to ensure they have no political affiliation to any opposition party," he said.
Negotiations in Douma
Meanwhile, talks over the fate of Douma, the final opposition-held zone in Syria's Eastern Ghouta, have stalled over divisions within the faction that holds the area, the Syrian Observatory for Human Rights said Monday.
While two major opposition factions have in recent days agreed, after talks with Russia, to leave other pockets of Eastern Ghouta for opposition-held territory, negotiations are still under way with Jaish al-Islam, AFP reported.
Unlike the others, that deal could see Jaish al-Islam remain in Douma.
"The ongoing negotiations with Russia are to stay in Douma, not to leave it," said Jaish al-Islam spokesman Hamza Bayraqdar, without providing further details.
Observatory chief Rami Abdel Rahman said the deal could see Jaish al-Islam lay down heavy weapons in exchange for the return of government-provided water and electricity to the town.
Russian military police, but not Syria's army, would deploy there.
But internal divisions within opposition ranks were holding up the talks, Abdel Rahman told AFP.
"Jaish al-Islam's commanders are divided and some are opposed to a deal," he said.