Kirkuk resident Saad Mohammed and his family recently returned to their home in western al-Hawija's al-Abbasi neighbourhood after a two-year period of displacement.
"Nothing is more precious than to live under your own roof and be able to do your job and feed your children and raise them without fear," said Mohammed, 55, who owns a small shop that sells clothes and cosmetics.
These days, he told Diyaruna, he feels as if he has been given "a new lease on life".
"The days of terrorism are over," he said, adding that city residents are committed to maintaining stability in the area and rooting out "Islamic State of Iraq and Syria" (ISIS) remnants.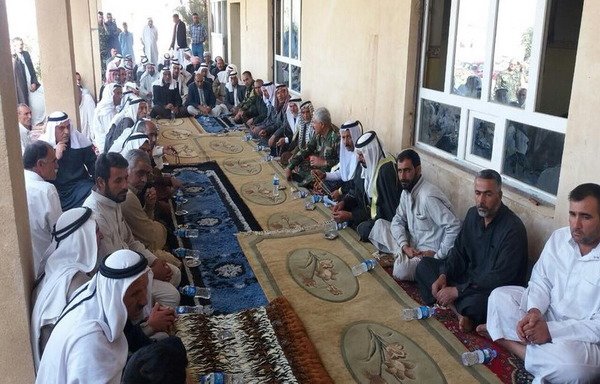 "The security forces are responsible for our security, but it is primarily up to us," he said. "We can never go back to how things were."
Sleeper cells remain
Despite the prevailing stability in al-Hawija, ISIS sleeper cells that exploit the area's complex topography still pose a threat.
The biggest task ahead is how to eliminate these cells, al-Hawija tribal mobilisation field commander Salah Razouqi told Diyaruna.
"In the past few weeks, we have seen ISIS attacking remote villages and targeting civilians, security forces and volunteers," he said.
On February 18th, militants killed 27 members of a paramilitary group affiliated with the Iraqi forces in the village of al-Saadaniya to the south-east of the city.
These attacks serve as a "red flag for us and the local population", Razouqi said.
Co-operation between security forces and local residents must be reinforced so militants are left with nowhere to hide, he said, noting that residents are trying to help the security forces in a number of ways.
"They are motivated by a sense of responsibility and a desire to remove the threat from their city and to preserve the victory," he said.
Normal life returns
In several areas of the city, including al-Abbasi and Upper Zab, the displaced population has almost fully returned, Kirkuk provincial council member Maan Mohammed told Diyaruna.
Life in these two areas has resumed, with bustling markets and healthy commercial activity, he said, noting that schools have welcomed students back and services such as water and electricity are running fairly well.
The same is true for the centre of al-Hawija district "with half of its population now back, in spite of limited services on offer", Mohammed said.
The security situation is more complicated, however, in the administrative districts of al-Riyadh and al-Rashad, in southern and south-eastern al-Hawija, he said.
In the villages and remote areas of these districts, militants are taking advantage of the rugged terrain to hide, he said.
Operating from caves, valleys
The current security campaigns are not enough to ward off the threat of ISIS cells, Razouqi warned, as al-Hawija is part of the Zghaitoun Valley, which includes a series of small valleys and vast, uninhabited hills.
Conducting a comprehensive sweep requires "a large scale campaign in which several military units take part supported by constant air cover", he said.
"The latest terrorist operations were [hit-and-run attacks] carried out by small bands of a small number of militants," Kirkuk provincial council security committee chairman Burhan al-Assi told Diyaruna.
These militants operate at night, under cover of darkness, and quickly return to the caves where they hide after carrying out their attacks, he said.
The sporadic attacks are primarily intended as a way to create media frenzy, al-Assi said, adding that it is important to establish full Iraqi sovereignty over liberated areas.
Locals provide "strong backing for the security forces and are very keen to protect their neighbourhoods so as to prevent another terrorist takeover", he stressed.