The US warned its NATO ally Turkey on Monday (March 19th) it is "deeply concerned" after a Turkish-led assault on the Syrian city of Afrin triggered an exodus of Kurdish civilians.
US special forces continue to support the Syrian Democratic Forces (SDF) east of the Euphrates river.
West of the river, Turkish and Syrian forces (the Free Syrian Army) moved to take Afrin from a group Turkish President Recep Tayyip Erdogan sees as aligned with the outlawed Kurdish PKK group fighting within Turkey.
US State Department spokeswoman Heather Nauert reiterated that "the United States does not operate in the area of north-west Syria, where Afrin is located".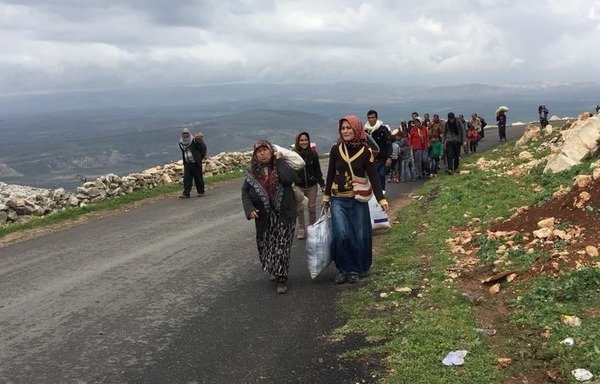 "We remain committed to our NATO ally Turkey, to include their legitimate security concerns. We also remain committed to the Defeat ISIS campaign and our Syrian Democratic Forces partners in eastern Syria," she said.
The SDF has been instrumental in the fight against the "Islamic State of Iraq and Syria" (ISIS), ousting the group from its main stronghold of al-Raqa.
Humanitarian crisis
"It appears the majority of the population of the city [Afrin], which is predominantly Kurdish, evacuated under threat of attack," Nauert said.
She said the offensive had worsened the "humanitarian situation in the area, with UN agencies reporting a displaced population in or from Afrin district in the hundreds of thousands".
More than 200,000 civilians have left their homes in the Afrin area due to the fighting, which has been ongoing for at least 60 days, said Azad Dudeki, a Kurdish Red Crescent official in Afrin.
Residents began to leave out of fear for their lives after "shelling and airstrikes hit civilian sites such as hospitals and medical centres", he told Diyaruna.
"The exodus from Afrin occurred in a disorganised manner, without any co-ordination with specialised international organisations," he said, adding that about half of those who fled are still out in the open, sleeping in the fields.
Inside Afrin, fears are running high, Dudeki said.
Forces entering the city reportedly have lists of names to pursue "those who oppose them, are suspected of having fought against them or are connected to the forces that defended the area", he said.
This will spark religious and ethnic divisions which could have "very serious consequences" in the future, he said.
Concerns about ISIS
Nauert warned that the fighting has distracted from the battle against ISIS, which she said had begun "reconstituting in some areas".
"This is a serious and growing concern," she added.
The situation in Afrin has seen some Kurdish members of the SDF abandon the battle against ISIS in the Middle Euphrates River Valley and head west to join the fight against Turkey and Turkish aligned forces.
The Pentagon cautioned this flow has created an opening for ISIS fighters.
"It is imperative that we not relent on ISIS or permit these terrorists to recover from their battlefield losses," said Pentagon spokesman Major Adrian Rankine-Galloway.
"There is no doubt that, as it has done in the past, ISIS is taking full advantage of any opportunity to regain its momentum by attempting to retake previously liberated territory and fleeing to more permissive areas," he said.
The situation in Afrin has brought operations to expel ISIS from parts of Syria to a halt, SDF officer Farhad Khoja told Diyaruna.
"Thousands who were fighting ISIS were forced to withdraw from Deir Ezzor and other regions and head to Afrin to take part in the fighting there," he said.