Syrian regime forces withdrew from some of their positions in eastern Qalamoun, outside Damascus, after opposition factions -- including extremists -- launched a surprise attack, activists and opposition figures told Diyaruna Sunday (March 18th).
During the offensive, which followed months of relative calm in the region, opposition fighters managed to seize regime positions and weapon and ammunition depots, local activist Mamoun Huwaidi told Diyaruna.
Opposition factions in the eastern Qalamoun region launched an offensive dubbed "The martyr Suad al-Kiyari" in an attempt to relieve the pressure on nearby Eastern Ghouta, he said.
The middle section of Eastern Ghouta and the Douma area remain besieged, and regime forces continue to advance and apply pressure on the region, he said.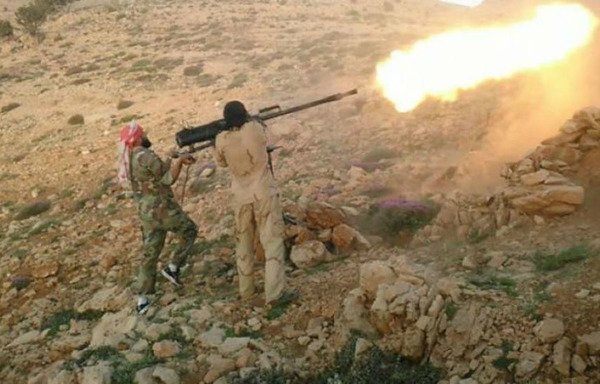 According to the Syrian Observatory for Human Rights, regime forces have retaken 80% of Eastern Ghouta.
They have split the remaining areas under opposition control into three separate pockets, each held by different opposition factions, AFP reported.
Jaish al-Islam is isolated in a northern pocket around Douma, while hardliners from Ahrar al-Sham control a small area around the town of Harasta to the west. In the south, Faylaq al-Rahman holds the area around Arbin.
Surprise attack in al-Mahasa
Meanwhile, opposition factions were able to make a significant advance after launching a surprise attack in al-Mahasa area of eastern Qalamoun, Huwaidi told Diyaruna.
"Regime forces withdrew from the area after a number of combatants were killed or wounded," he said.
The factions that carried out the attack operate under the banner of Tahrir al-Sham and are "led by former Syrian army Capt. Firas Bitar, who defected from the regime", he added.
Most of these factions are positioned in the town of al-Ruhayba and had taken part in previous battles in Qalamoun against the regime and militias loyal to it, particularly Lebanon's Hizbullah.
Tahrir al-Sham and other factions fighting alongside it, including Usud al-Sharqiya and Martyr Ahmed al-Abdo Forces, seized a T-72 tank and weapon and ammunition depots that were abandoned by the regime, Huwaidi said.
Additionally, a regime fighter jet was shot down in the eastern Qalamoun area as it attempted to raid Tahrir al-Sham positions and stop its advance, he said.