A new agreement has been announced in the opposition enclave of Eastern Ghouta outside Damascus to evacuate the wounded and sick, an activist said.
Meanwhile, Syrian regime forces have succeeded in dividing the area into three sections, which has put additional pressure on civilians who are already suffering under the tight siege imposed on them for more than three years.
Jaish al-Islam, which controls the city of Douma, on Monday (March 12th) announced it had reached an agreement with regime forces through the UN to evacuate the wounded and the sick, activist Ahmed al-Beik told Diyaruna.
The UN said more than 1,000 people, including around 80 priority cases, were in urgent need of medical evacuations from Eastern Ghouta, AFP reported.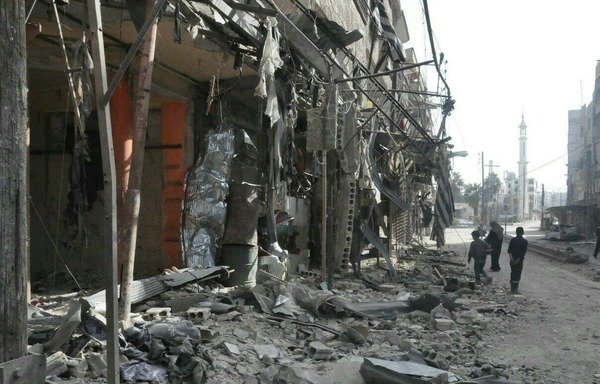 Under the agreement, those who are in urgent need of medicine and treatment outside Eastern Ghouta will be transported from the area, al-Beik told Diyaruna, with the evacuation to proceed in two directions.
"One group of mostly civilians will proceed towards the hospitals of Damascus and regime-controlled areas, while a second group, comprising mainly wounded fighters, will be transported to the Idlib area," he said.
"The evacuation has become critical in view of the scarcity of medical supplies and as most hospitals and medical posts have been knocked out of service after sustaining severe damage in the airstrikes and shelling," he added.
On Tuesday, Syrian Arab Red Crescent ambulances were on standby as the Red Crescent prepared to evacuate people, AFP reported, and the UN humanitarian co-ordinator in Syria, Ali al-Zaatari, was on hand.
"A group of critical medical cases will be evacuated with those accompanying them via al-Wafideen" checkpoint into regime-held territory, said Yasser Delwan, the head of Jaish al-Islam's political office.
A military source at the checkpoint confirmed "an evacuation today of wounded and grave medical cases along with a number of civilians".
But "no fighters will leave today", he added, without elaborating.
Eastern Ghouta divided
Regime forces have in recent days succeeded in dividing the Eastern Ghouta region into three separate sections, the largest of which is Douma and its surrounding areas, al-Beik told Diyaruna.
Regime forces have totally besieged the three areas, he added, while continuing to keep them under artillery and sniper fire and airstrikes.
"The new siege has greatly increased the suffering of those in the enclave, largely because it shut down all the old routes through which it had been possible to smuggle some essential and necessary food and medical items," he noted.
All is left is some relief aid that was brought in recently and agricultural crops, most of which have been consumed, he said.
The heaviest shelling has targeted the towns of Harasta and Erbin, which are under the control of Tahrir al-Sham and appear to be the next target for the regime forces to enter and control, he said.
There has been a massive wave of displacement from Harasta and Erbin and surrounding areas in the direction of the southern part of the enclave, which is controlled by Failaq al-Rahman, al-Beik added.