The Iraqi government is making plans to beef up the police force responsible for protecting Mosul and other Ninawa province cities, a senior military official told Diyaruna Monday (March 12th).
Prime Minister Haider al-Abbadi and the Interior Ministry have been looking to increase the number of the Ninawa police force by about 12,000 officers, Ninawa police chief Brig. Gen. Hamad Names al-Jubury said.
"We have received government promises on this ... and are waiting on a formal announcement to be made to open the application process and set up committees to examine the applications and select qualified persons," he said.
At least 33,000 policemen are required to protect a large province the size of Ninawa, al-Jubury said, noting that a third of that number is still needed to fill the current shortage in policemen.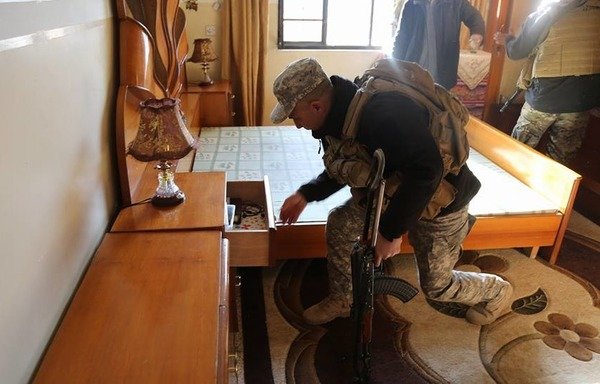 "Our province is vast and includes several large cities, and we are today responsible for maintaining the security of those cities and consolidating their stability," he said.
Cracking down on ISIS cells
The local police have made big strides in enhancing the security situation, al-Jubury said, noting the many recent security achievements, including clamping down on "Islamic State of Iraq and Syria" (ISIS) sleeper cells in the province.
Over the past three days, the Ninawa police have conducted, in co-operation with the Iraqi army, new searches for ISIS remnants wanted for trial, he said.
The operations, which were limited to residential neighbourhoods in western Mosul, resulted in "the arrest of 34 terrorists who were hiding among the population", he said.
The arrests were made thanks to "accurate intelligence" provided by residents, he added.
The police on March 9th also arrested a "dangerous terrorist" -- ISIS element Ahmed Hussein Khalaf Ibrahim from the village of al-Sayyid Hamad in Nimrud district, south of Mosul, he said.
During ISIS' control of Mosul, Ibrahim was responsible for campaigns to hunt down former security forces personnel and confiscate their property. He was arrested in al-Karama neighbourhood in eastern Mosul following reports by local residents.
Tips from local residents have also helped the police seize a truck parked at the entrance to al-Quds neighbourhood in eastern Mosul on March 6th.
The truck was loaded with large quantities of weapons and ammunition, including 31 RPG-7 launchers with 515 rockets, as well as three sniper weapons and 850 medium calibre ammunition boxes.
"It was a highly valuable catch," al-Jubury said.