The Syrian regime's Russia-backed air and ground campaign against Eastern Ghouta has cut off desperately needed aid deliveries to tens of thousands of besieged civilians.
Fresh shelling endangered a vital aid delivery to the opposition enclave on Friday (March 9th), two hours after an aid convoy entered the besieged town, the UN said.
A convoy of 13 trucks loaded with 2,400 food parcels from the UN, the International Committee of the Red Cross (ICRC) and the Syrian Arab Red Crescent entered Eastern Ghouta early Friday.
ICRC spokeswoman Ingy Sedky said the trucks had been waiting outside the enclave east of Damascus after a previous delivery on Monday was cut short by bombardment.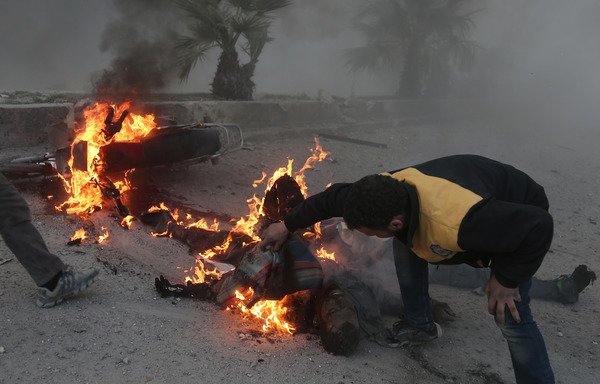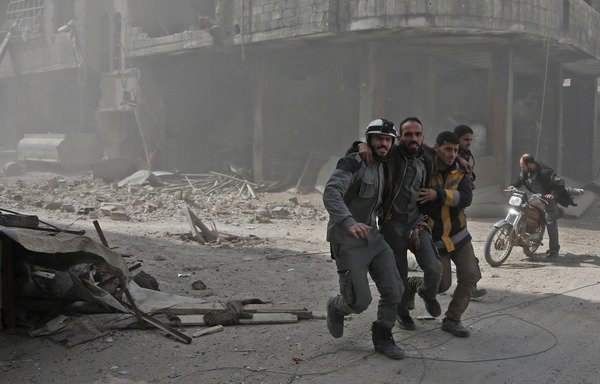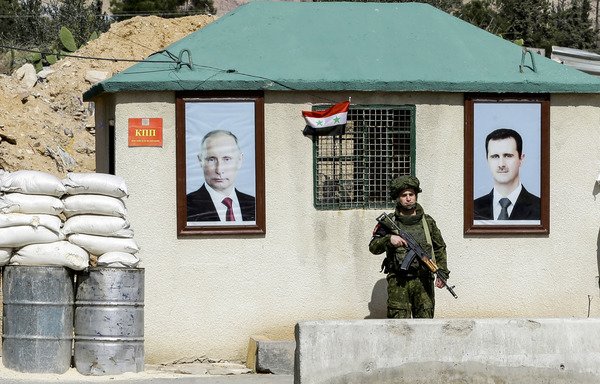 Early Friday, a lull in the shelling allowed the convoy to enter Eastern Ghouta where more than 930 civilians have been killed since Russia-backed regime forces launched an assault on February 18th.
The new convoy was carrying food that aid workers were unable to distribute on Monday. It had been due to enter on Thursday but was delayed.
"Today, they will deliver the remaining of the aid that wasn't delivered during the previous convoy of March 5th," Sedky said.
"We also have some positive indications that a bigger convoy with additional supplies including medical items might happen next week," she added.
But renewed shelling "in proximity of Douma, east Ghouta today, is putting the UN/ICRC/SARC convoy at risk, despite assurances of safety from parties including the Russian Federation", the UN humanitarian co-ordinator in Syria, Ali al-Zaatari, said in a statement.
"The UN calls for a cessation of hostilities in the area and for calm throughout Syria so that aid can be safely delivered to people in need," al-Zaatari said.
'Hopelessness and despair'
There were no medical supplies on board Friday's convoy.
The enclave's 400,000 inhabitants have been living under government siege since 2013, with food and medicines in very short supply even before the latest assault.
The renewed artillery fire came as representatives of Damascus and businessmen pressed negotiations on a solution that would allow civilians or fighters to leave the enclave, the Syrian Observatory for Human Rights said.
Syrian state news agency SANA said dozens of civilians were expected to leave Eastern Ghouta on Friday.
The air and ground assault has left exhausted medical staff struggling to cope with hundreds of wounded civilians pouring in to hospitals covered in blood and dust.
Doctors and nurses have run out of several life-saving items and a massive medical re-supply is critically urgent, Doctors Without Borders (MSF) said Friday.
"The need for a massive medical re-supply, without life-saving items being removed, is increasingly urgent with each passing hour," MSF said in a statement.
The Paris-based charity urged the warring parties to pause the bombing and shelling to allow for the evacuation of critically sick or wounded patients.
MSF said doctors inside the enclave were exhausted.
"Daily, we hear of an increasing sense of hopelessness and despair, as our medical colleagues reach the limits of what a person can be expected to do," MSF director general Meinie Nicolai said.
Syria, Russia planning next 'apocalypse'
The charity said 15 of the 20 medical facilities it supports in Eastern Ghouta have been hit by airstrikes or shelling.
Regime forces have advanced rapidly through farmland in the enclave since last week, according to the Observatory, taking control of more than half of the territory from the armed opposition.
They are now seeking to cut off Douma from opposition-held territory further south, Observatory head Rami Abdel Rahman said.
The blistering Syrian government onslaught, backed by the Kremlin, has prompted international outrage, including accusations by the UN that the government was orchestrating an "apocalypse".
UN human rights chief Zeid Ra'ad Al Hussein said Wednesday (March 7th) the Syrian regime and its foreign allies were already planning their next "apocalypse".
"This month, it is Eastern Ghouta," he said.
"Next month or the month after, it will be somewhere else where people face an apocalypse -- an apocalypse intended, planned and executed by individuals within the government, apparently with the full backing of some of their foreign supporters," a reference to Russia and Iran.
'Russian truce is a farce'
The UN Security Council on February 24th demanded a 30-day cessation of hostilities, but the resolution has done little to bring relief to civilians.
The council is to meet on Monday to hear a report from UN Secretary General Antonio Guterres and try to plod on with a bid to turn the ceasefire into a reality on the ground.
A previous "humanitarian pause" announced by Russia in late February failed to end violence in Eastern Ghouta and has inspired little trust from among the besieged enclave's 400,000 residents.
Many in the enclave appeared distrustful of the "pause" announced by Damascus's main ally.
"This Russian truce is a farce. Russia is killing us and bombing us every day," said Samer al-Buaidhani, a 25-year-old from Douma.
"I do not believe it is safe for me or my family to leave by this system," he told AFP.
The regime on Wednesday deployed buses at al-Wafideen to transport residents wanting to flee what UN chief Antonio Guterres has called "hell on earth".
But no civilians were seen venturing towards the regime forces guarding the check-point, where large portraits of Syrian President Bashar al-Assad and Russian President Vladimir Putin could be seen side by side.