As the Iranian regime seeks to expand its influence in strategic parts of Syria, Islamic Revolutionary Guards Corps (IRGC) officers have been actively recruiting fighters for a brigade in Daraa province, residents and activists told Diyaruna.
IRGC officers are directly overseeing recruitment for Brigade 313, which is based in the south-western town of Azraa and takes its orders from Iran, they said.
Recruitment efforts have been targeting low-income youth and those who are seeking to avoid being conscripted into the regular Syrian army, according to 20-year-old Yasser al-Khalid, a local resident who was recruited by the IRGC.
Upon reaching the age of 18, Syrian youth are required to serve in the military.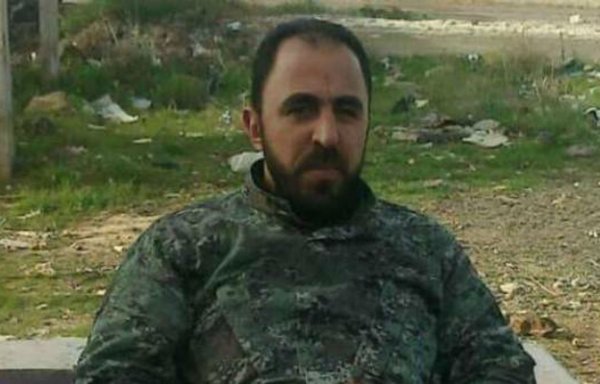 Using a pseudonym to protect his identity, al-Khalid said his father had intervened in an attempt to protect him, paying bribes to officials to keep him from military service, which at this time means taking direct part in the battles.
An official told his father to send him to join Brigade 313, al-Khalid told Diyaruna, saying that would relieve him of his military service requirement.
But upon joining the local brigade, he said, he found it was under the command of IRGC officers, who were "directly overseeing the reception and registration of volunteers".
Each recruit receives a security card with the IRGC logo that protects him from being stopped at regime checkpoints, he said, and is paid $300 a month.
A few days after joining, al-Khalid learned the IRGC officers had been moving recruits to other areas for training, before sending them to the battlefronts, he said, which prompted him to flee to Damascus.
Brigade 313 under IRGC control
"Brigade 313 is a purely sectarian outfit whose mission is to carry out military operations at the behest of the IRGC and not the regular army," al-Khalid said.
Since November, when it tightened its grip on the city of Daraa, the IRGC has been recruiting fighters to revitalise Brigade 313, according to Yasser al-Turkmani, an officer with the Daraa-based Tawheed Kataib Horan Brigade.
Brigade 313 was not a new group, he told Diyaruna, but had few members until it was "revived by the IRGC".
IRGC officers targeted residents of Daraa city and its surrounding villages for recruitment "by exploiting their miserable conditions", al-Turkmani said.
Most of the recruits had sought to evade mandatory military service with the Syrian army, and joined the brigade to be relieved of that duty, he said, "while others suffered from poverty and were unable to find employment".
The latter group was enticed to join by the monthly salary of $300, which increases based on the responsibility undertaken by the recruit, he said.
Brigade 313 is headquartered at the Azraa youth centre, he said, noting that recruits undergo training at camps in Azraa and Sheikh Meskin under the supervision of IRGC officers and trainers from Lebanon's Hizbullah militia.
Furthering Iran's regional agenda
"The IRGC is trying to expand in Syrian areas controlled by the regime, particularly in the southern region," said Sheyar Turko, who studies the funding and proliferation methods of the IRGC.
This strategic area is close to the border with Jordan and is part of a route that links Damascus with the Syrian Badiya (eastern desert) region and the border with Iraq, he told Diyaruna.
"The IRGC wants to keep its armed groups in the corridor it is trying hard to establish to connect Tehran with Beirut," he said. "The Daraa area is a mandatory passageway on this route."
"The IRGC's ploy has been exposed," he said, noting that in order to avoid being accused of direct intervention in Syria, Iran has focused its energy on establishing local militias such as Brigade 313.
This is in addition to other militias fighting in Syria overseen by the IRGC, he said, such as the Fatemiyoun and Zainabiyoun militias respectively comprising foreign mercenaries from Afghanistan and Pakistan.