More than a thousand al-Raqa children are back in the classroom and are sitting first semester exams for the first time since the "Islamic State of Iraq and Syria" (ISIS) was expelled from the Syrian city.
Al-Wehda al-Arabiya school in al-Mashlab district was the first school to open its doors to returning students, teacher Ahmed al-Issa told Diyaruna.
Al-Mashlab district was the first to receive returning residents.
The school still suffers from a severe shortage of resources and requires a great deal of repair, equipment and supplies to ensure the success of the education process, he said.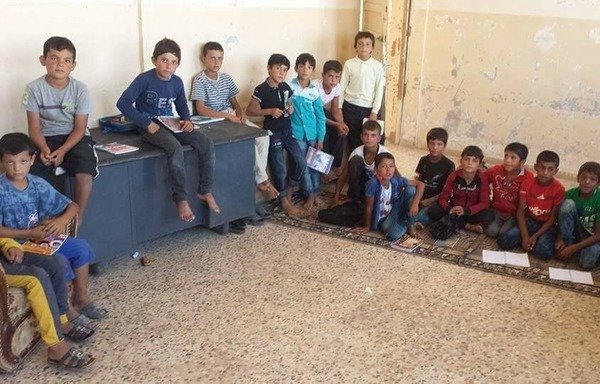 Some 1,111 students returned to class about a month ago, he said, and the teaching staff has been trying, with the co-operation of al-Raqa Civil Council and its education committee, to get the education process back on track.
This is being done with whatever resources are available, he said.
The council and residents were strongly determined to reopen the school and receive students, even though it still needs extensive repairs, al-Issa said.
It took two months to get the school ready to reopen, he said.
After the city was liberated, the roads in al-Mashlab district were reopened, allowing the school to be cleared of rubble left by the fighting and some mines that had been planted around it and inside its walls, he said.
Focus on mental health and morale
The school's administration is having its students sit the first semester exams, which began Sunday (January 14th), along with other students across Syria, al-Issa said.
The focus with the students at this time is not entirely on the academic aspect of learning, he said, noting that the teaching staff are concentrating their attention on the students' psychological state and morale.
Many of them had been away from school for years, he explained.
Those students are treated with special care, and have been undergoing evaluations to assess their intellectual and academic capabilities in order to determine the best way to help them catch up on their education.
The past five years, during which the students lived under the rule of ISIS, severely and clearly affected their mental state, al-Issa said.
What is required now is to erase those harsh memories from their minds and eliminate any residue of extremist ideology, he said, as ISIS sought to indoctrinate children through its control of schools and imposition of its curricula.