In the cities of Fallujah and Ramadi, the local and federal governments have been working with international partners to restore infrastructure and services damaged during the battles to oust the "Islamic State of Iraq and Syria" (ISIS).
Local authorities are "doing their utmost to implement reconstruction plans", Fallujah mayor Issa al-Sayer told Diyaruna, noting that reconstruction efforts are being overseen by the Funding Facility for Stabilisation.
The facility, established in 2015 by the UN Development Programme (UNDP) at the request of the Prime Minister of Iraq, with support from the international coalition, is designed to help rapidly stabilise newly retaken areas.
It aims to help restore confidence in the leading role of the government in areas recaptured from ISIS and give populations a sense of progress, and is currently endorsed to operate in 28 areas, including Fallujah.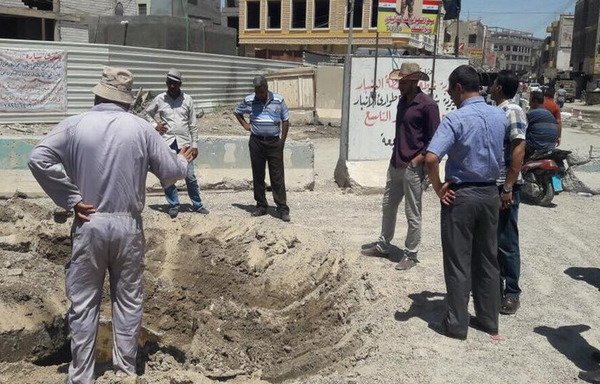 "Within the framework of that project, we have managed to rehabilitate 3,000 out of 8,000 houses to date that were damaged by terrorists," al-Sayer said.
The project also encompasses the health sector, with 5,000 affected health centres as well as Fallujah Hospital included in the reconstruction plan, he said.
"Three out of five colleges in the city also have been added, and are currently being rehabilitated," he said, and "53 out of 175 partially or completely damaged schools have been rebuilt".
Restoring electricity and bridges
"Al-Shimaliya power plant, which is the lifeline for the city, has been completely rehabilitated, in addition to al-Sharqiya and al-Nasr power plants," he added.
"Although these plants are now operational, several neighbourhoods still have to endure limited electricity supplies due to grid damage, which is being repaired."
"In the northern part of the city, which includes several neighbourhoods such as al-Shurta, al-Thubat and al-Jolan, electricity supply is good and is up to 85% capacity," al-Sayer said. "But this percentage goes down to 33% in the southern neighbourhoods of Jubeil, Nazzal and al-Risala."
"The water supply network also has been heavily damaged, but we continue to work towards rehabilitation," he said.
Fallujah's bridges were significantly damaged during the fight to drive out ISIS, he said, noting that the new Fallujah concrete bridge, a major link between the city and Ramadi, is now being rehabilitated.
"The rehabilitation of the Japanese bridge and the Fallujah steel bridge also were under the UNDP project for stabilisation," he said.
There are other bridges, such as al-Saqlawiyah, Taqsim, al-Tharthar, al-Hilwa and al-Anaz on the outskirts of Fallujah, that were taken over by the national reconstruction fund for the liberated areas, but work has yet to commence, he added.
Key infrastructure restored
In Ramadi, most of the city's key infrastructure has been restored, but is not yet operating at full capacity, Ramadi mayor Ibrahim al-Awsaj told Diyaruna.
Utilities were the most affected, he said.
"There are 165 drinking water facilities in and around Ramadi that were rehabilitated for the most part, but are working at half capacity," he said. "Sewage systems that were damaged by roadside bombs planted by terrorists, as well as the power grid, also have been repaired."
However, he added, around 80% of the main and side roads in the city that were damaged by roadside bombs have not been completely rehabilitated.
Out of 200 damaged schools, 23 have been rebuilt, he said.
"In an attempt to fill the gap, we have provided makeshift schools on a temporary basis," he added.
"Colleges at the University of Anbar have now reopened and classes are running on a regular basis, although four out of 13 colleges have yet to be fully rehabilitated," al-Awsaj said.
'A long road ahead'
As for Ramadi's bridges, al-Awsaj said, 32 were damaged in total.
Three are being rehabilitated with the support of the World Bank and the International Monetary Fund, while the UNDP is working on rehabilitating two others.
Al-Awsaj called on the government to provide assistance to the local population so they can rebuild their homes, noting that "out of 65,000 damaged homes, only a small number have been rebuilt by their owners".
"We have made progress, but there is a long road ahead and we need more money and support," he said.
"Reconstruction efforts are picking up pace," Naeem al-Koud of the Anbar provincial council told Diyaruna.
"It is quite remarkable to see the progress made in the cities of Anbar province, including Fallujah and Ramadi, compared to how things were a year ago."
"We have yet to reach the desired level of progress," he said. "However, the public services sector has witnessed rehabilitation at a record speed with limited financial resources, which is cause for optimism."