Tahrir al-Sham has suffered heavy human and material losses during ongoing fighting in the Eastern Ghouta region near Damascus, activists told Diyaruna Thursday (January 4th).
Fierce fighting broke out at the end of last week in Eastern Ghouta when Tahrir al-Sham fighters refused to withdraw to Idlib city and its environs, said activist Mohammed al-Beik of the Eastern Ghouta co-ordination committee.
These violated the terms of a reconciliation agreement requiring them to leave with their families in exchange for a halt to bombardment of the area, he told Diyaruna.
Most opposition factions in the area, the majority of them hardliners such as Tahrir al-Sham, Jaish al-Islam and Jaish al-Ababil, took part in the clashes.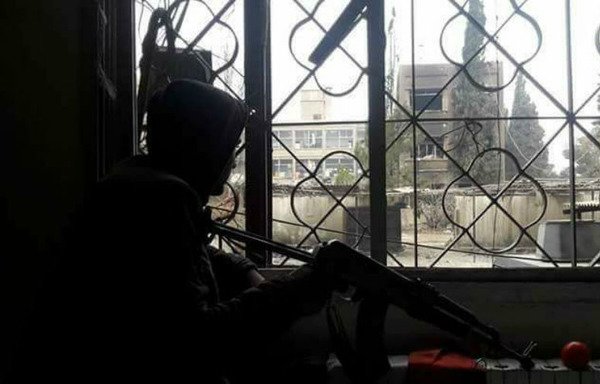 But Tahrir al-Sham's losses were the greatest, since the extremist alliance -- which is dominated by the former al-Nusra Front (ANF) -- is the largest in terms of the number of its fighters and the territory it controls, al-Beik added.
"The fiercest fighting took place in and around the town of Harasta, where there is a cluster of buildings that belonged to units of the Syrian army and the regime's security services," he said.
Tahrir al-Sham was able to occupy this area and besiege about 200 of the regime's officers and soldiers in a criminal investigation building, he said.
But regime forces and allied militias on Thursday were able to enter the area, lift the siege, and kill more than 30 Tahrir al-Sham elements of various nationalities.
Public demands militants withdraw
The fighting erupted unexpectedly, after the local population had hoped that calm would return once the extremist fighters left the area, al-Beik noted.
The fighting turned public opinion in the area, which has been besieged by the Syrian regime for months, against the militant groups, he added.
Some towns saw demonstrations demanding the militants withdraw -- notably the town of Babila -- where a large group of women demonstrated to demand Jaish al-Islam and Jaish al-Ababil withdraw from their area.
Jaish al-Islam tried to disperse the Thursday demonstration by force, opening fire to intimidate the protestors, he said, wounding a number of them, including children who were participating in the demonstration.
A Tuesday demonstration was dispersed in the same way, he said.