Classes were suspended at the Free Aleppo University in rural northern Idlib last week as students demonstrated against Tahrir al-Sham's efforts to extend its control into Idlib and Aleppo, student activists said.
Students who spoke with Diyaruna said university faculty and staff were in full solidarity with their efforts to protest the influence of the extremist alliance, which is dominated by the former al-Nusra Front (ANF).
Students decided to return to class on Tuesday (January 2nd), after receiving assurances the alliance and the so-called National Salvation Government would not interfere in any way in the university's administrative and educational affairs.
"University students in al-Dana were to hold a protest Tuesday before re-entering the classrooms, 10 days after classes were suspended in rejection of the interventions," said Mohammed Akoush of the student action committee.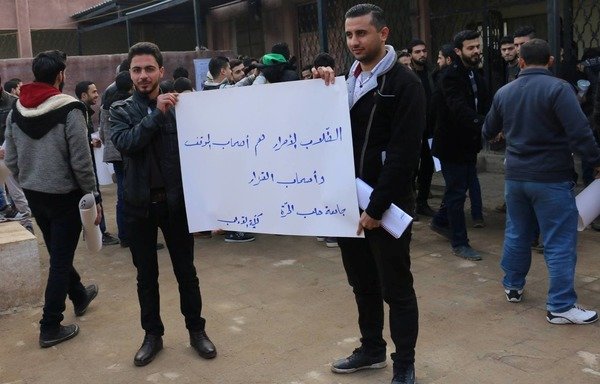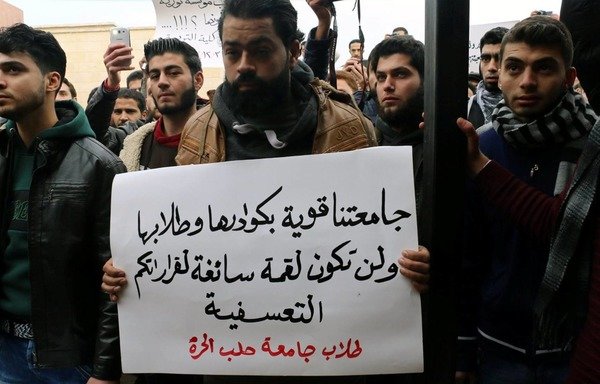 The students have rejected Tahrir al-Sham's interventions, which included transferring the university building from the city of al-Dana in the northern Idlib countryside to the town of Bishkatin in the western Aleppo countryside, he said.
They also were protesting the alliance's dismissal of the university's director, Yassin Khalifa, and its appointment of Ibrahim al-Hamoud in his place.
Rejection of outside interference
Armed groups of Tahrir al-Sham fighters raided the university building and took away large volumes of official education-related papers and students' identification papers, Akoush said.
They also replaced the locks on the doors of all faculties and placed the keys in the hands of Tahrir al-Sham elements inside the university, he said.
The actions of the so-called "salvation government" are aimed at extending its influence and that of the alliance over the university, which has been independent since its establishment in 2016, Akoush said.
Classes have been suspended since December 23rd, he said, and the students' decision to return has come after much mediation, in order to lift outside hands off the university.
"This is especially the case regarding the appointment of administrators, in addition to not interfering in any way with the curricula," he added.
Student demonstrations took place at the university's branch in al-Dana on Sunday (December 31st) and Monday (January 1st) to reassert the university's independence and its rejection of outside control.