The emergence of a new terrorist group in the remote mountainous regions of Iraq's Salaheddine and Kirkuk provinces that espouses the same ideology as the "Islamic State of Iraq and Syria" (ISIS) has triggered public alarm.
But security leaders say the group is of little consequence, and have vowed to launch military operations that will eradicate it conclusively.
Anecdotal reports from residents and local media point to the presence of a new group, known as the "White Flags", that has been trying to establish a foothold near Kirkuk and in the town of Tuzkhurmato in Salaheddine province.
Residents and security personnel have observed small bands of armed fighters operating in remote mountainous regions who are similar to ISIS in dress and appearance, said Salaheddine provincial council member Salah al-Khazraji.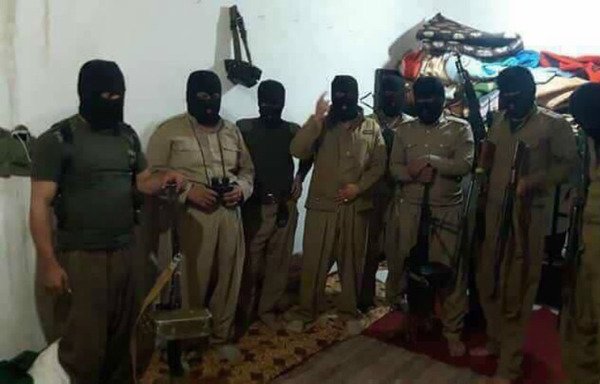 "The group has been trying to set itself up to be the successor to ISIS," he said, as intelligence information indicates that it includes in its ranks ISIS fighters who deserted the group in the wake of its recent defeats.
"The new group is no different in its adopted ideology from other terrorist groups," he added, noting that it intends to prey on the ideological, sectarian and ethnic divisions among the Iraqi people to forge an opening for itself.
It intends to use these divisions as leverage to enter and seize control of cities, he said.
Government measures to return internally displaced persons (IDPs) to Tuzkhurmato and establish security in Kirkuk will cut off the path of that group and nip it in the bud before it is able to spread and expand, al-Khazraji said.
Who belongs to the 'White Flag' group?
"Iraqi security and intelligence agencies have detailed and accurate information about this group," said Counter-terrorism Service spokesman Sabah al-Numan.
This information includes "the names of its leaders, their whereabouts and the nature of their activity", he told Diyaruna.
Al-Numan said the group is a remnant of a group known as Ansar al-Islam, which emerged in 2005 in the border areas between Iraq and Iran.
Most of that group's cells were destroyed at the time, he said, but ISIS defectors have been gradually joining the remnants.
The group became active when political and social problems began to emerge in the area, he said, noting that the areas near Kirkuk and Tuzkhurmato were outside the control of the state for three years.
"The media's portrayal of the situation has made the group seem larger than it actually is and its capabilities greater than they actually are," he said.
The group poses no significant threat to security, he added, noting that rumours that it numbers more than 2,000 elements are inaccurate, "as there are far fewer than that in reality".
Iraqi forces are preparing to take action to eliminate them altogether, al-Numan revealed, stressing that Iraq will not allow the emergence of any new terrorist group and will thwart all those who try to undermine the country's security.
Eliminating the 'White Flag' group
"The newly emerging group can be quickly eliminated before it gets the chance to spread its influence and expand beyond its current footprint," political analyst Fadhil Abu Ragheef told Diyaruna.
He called for a series of measures to be put in place to enhance the prospects of an Iraqi victory over terrorism and to thwart any attempt by ISIS or any other group like it to mount a comeback.
Foremost among these measures is the need to enrich the security database Iraqi intelligence agencies use with more data on terrorist elements and the nature of their affiliations and movements in the country, he said.
Abu Ragheef also called for strengthening information co-operation with other countries in the region and the world, making use of their increasing support for Iraq at the current stage.
He called for security measures to be tightened at Iraq's land crossings and airports, and for closer monitoring of extremist groups at home and abroad.
The media also have a role to play in exposing terrorist ideology, he said, by revealing its devastating effects on society and urging citizens to co-operate with security agencies, especially in high-risk areas.
"The White Flag group has found an incubating environment," he said, though it is too weak to accomplish anything on the ground and cannot become the successor to ISIS because it does not have a secure place where it can flourish.
"The group will soon be obliterated," Abu Ragheef predicted.
According to Iraqi security sources, raids have already targeted the group, resulting in a number of arrests, including that of group leader Assi al-Qawali.