Through its Islamic Revolutionary Guard Corps (IRGC), Iran is preparing to cement its presence in Syria for the long term, experts in Iranian affairs said.
This move, heralded by recent military agreements with the Syrian regime, poses a direct threat to the region's stability, they warned Diyaruna.
Iran and the Syrian regime signed several new military agreements during the October 17th visit to Damascus of Iranian armed forces Chief of Staff Maj. Gen. Mohammad Bagheri, the Secretariat of the National Council of Resistance of Iran (NCRI) said in a November 20th statement.
At this time, under the order and direct supervision of Iran's Supreme Leader Ali Khamenei, Iran signed a formal military agreement with the Syrian regime for the continuation and expansion of the presence of the IRGC in Syria.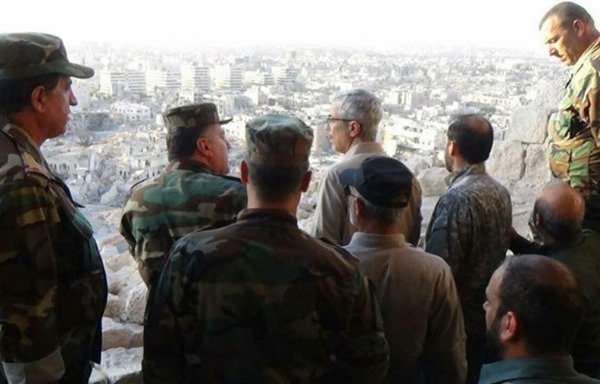 The agreement sought to establish legal and international justification for this presence, according to the NCRI, a self-described parliament in exile.
Another agreement signed at the same time established new weapons factories in Syria and called for the reconstruction by the IRGC of some of the Syrian regime's existing weapons factories inside Syria.
During the meeting, Bagheri also promised to expedite the delivery of arms to the Syrian regime, the NCRI statement said.
Long-term presence in Syria
"Iran is fully aware that the war in Syria is nearing its end and attention will more and more be directed to the Syrian interior," said al-Sharq Centre for Regional and Strategic Studies researcher Fathi al-Sayed, an Iran specialist.
The Iranian regime is working to ensure the continued presence of Iranian military and IRGC-affiliated militias in Syria by obtaining legal cover, he told Diyaruna, noting that the agreements give legitimacy to that presence.
"The IRGC also wants to protect its gains in Syria, should President Bashar al-Assad's rule be terminated," al-Sayed said.
The only way to accomplish this, he said, is by striking bilateral agreements that bind the Syrian state to accepting the presence of Iranian military bases.
The abolishment of these contracts by a new government would require lengthy negotiations, he explained, noting that Iran would exact a heavy price in return.
Al-Sayed warned against the establishment of Iranian weapons factories in Syria, pointing out that arms could be distributed to IRGC affiliates in the region.
Tensions with Iran at a peak
"The continued presence of Iranian forces and the IRGC in Syria is a very serious matter, as it will undoubtedly strengthen all IRGC-affiliated groups," said Sheyar Turko, an academic who has been researching IRGC affairs and funding.
These include Hizbullah, Harakat al-Nujaba, the Fatemiyoun Brigade, and other groups present in Syria, Lebanon and Iraq, he told Diyaruna.
Turko warned that these groups are likely to impinge on "media and individual freedoms in a manner that runs counter to the minimum standards of democracy" in their host countries, as they are merely tools of the IRGC.
The presence of Iran-backed groups "comes at a time when tension between Arab countries and Iran is at its peak", said Cairo University criminal law professor and Regional Centre for Strategic Studies researcher Wael al-Sharimi.
"Arab states have expressly stated that Iranian interferences in the internal affairs of the countries of the region are hostile and unacceptable," he told Diyaruna.
The continued presence of these groups will heighten tension, which could reach the point of direct confrontation if the situation spins out of control, he said.
Military bases 'a latent threat'
As for the Iranian bases in Syria, al-Sharimi said, they are "undoubtedly there to protect the Iranian presence and Iran's dream of establishing a corridor between Beirut and Tehran".
Military bases represent a "latent threat" as they signal the possibility of intervention at any time to protect interests, he said.
Iran's interests in Syria are numerous, and most of them are economic interests linked to oil derivatives, in addition to other economic and financial sectors.
For this reason, Iran is setting up conditions to protect its interests in the countries under its influence, he said, primarily by exploiting markets in Syria, in addition to Lebanon and Iraq.