Three elements of Tahrir al-Sham, an extremist alliance dominated by the former al-Nusra Front (ANF), were killed Sunday (December 3rd) in a targeted bombing in the northern Syrian city of Idlib, a media activist told Diyaruna.
A child also was killed in the blast near Mehrab roundabout, and a number of civilians who happened to be in the area of the bombing were wounded.
Meanwhile, another bombing in rural Idlib killed two Tahrir al-Sham elements.
An improvised explosive device (IED) exploded near a Tahrir al-Sham vehicle as it conducted a patrol in the city of Idlib at about 3 p.m. Sunday, said Idlib media activist Musab Assaf, using a pseudonym out of concern for his safety.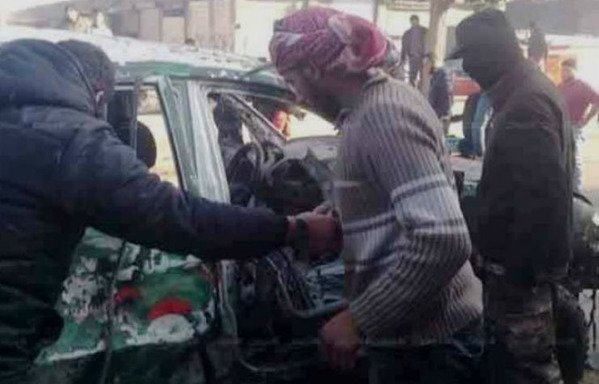 Three people in the vehicle were killed instantly, a 9-year old child named as Hamza Turkmani was fatally wounded by shrapnel, and a number of others were wounded, some seriously, he told Diyaruna.
"Tahrir al-Sham is keeping very tight-lipped about the names of its killed elements," he said.
After the incident, Assaf said, Tahrir al-Sham elements spread out throughout the city and set up a number of checkpoints.
Heightened tensions
This heightened the tension already permeating the city that began when the alliance carried out a roundup of al-Qaeda emirs and elements in Idlib and Hama provinces last week, he added.
"Residents totally reject the presence of Tahrir al-Sham on account of the abuses it has committed under the pretext of pursuing al-Qaeda elements, during which dozens of civilians were detained for their opposition to the group," Assaf said.
At the same time as the Idlib city bombing, another bombing targeted a Tahrir al-Sham vehicle near the town of Sinjar in south-eastern rural Idlib, he said.
Two Tahrir al-Sham elements were killed in the blast.
A number of vehicles have been targeted by IEDs in recent months in Idlib, Assaf said, leaving a large number of civilians killed or wounded.
The Mehrab roundabout area in the city of Idlib also was the site of a November 17th blast that killed and wounded a number of civilians, he noted.