Tensions are still simmering in parts of Aleppo and Idlib controlled by Tahrir al-Sham, an extremist alliance dominated by the former al-Nusra Front (ANF), following the alliance's roundup of al-Qaeda-affiliated leaders and elements.
These tensions extend into the alliance's innermost circles, local activists tell Diyaruna, and have prompted dozens of leaders to announce they reject the campaign of detentions and are suspending their work for the group.
Some have even threatened to part company with the alliance and break their allegiance to it, if those who have been detained are not released.
On Wednesday (November 29th), dozens of senior figures from Tahrir al-Sham issued statements in which they denounced the recent roundup of dozens of al-Qaeda leaders and jurists, Idlib-based activist Musab Assaf told Diyaruna.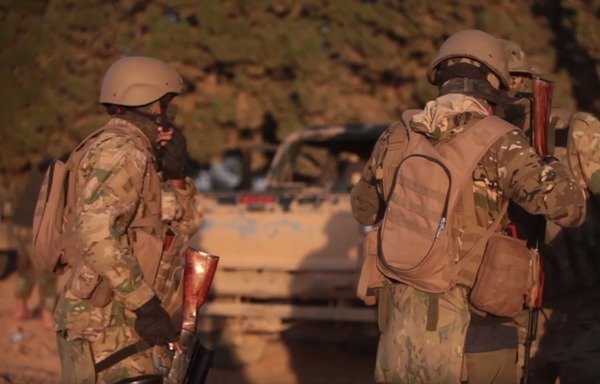 Some 60 leaders of various nationalities, including military commanders, sharia and administrative officials, have objected to the campaign and have suspended their work, said Assaf, using a pseudonym out of concern for his safety.
Of particular note, he said, was the objection of the alliance's elite forces.
Internal tensions roil Tahrir al-Sham
Assaf told Diyaruna he has learned from several sources that tensions have been bubbling up inside the ranks of Tahrir al-Sham in Idlib, and that a major split is expected to be announced soon.
Following the campaign of detentions, Tahrir al-Sham's northern, western and eastern desert sectors, along with its Desert Army and military administration, announced they have suspended their work with the alliance, Assaf said.
"Prominent leaders voicing their dissent include Abu Hamam, the alliance's vehicles chief and jurist Abu Aqaba al-Kurdi," he said. They are joined by Abu Mariam al-Tunisi, Abu al-Miqdad al-Urduni, Abu Salma al-Urduni, Abdul Ghani al-Maqdisi, Abu Ali al-Ansari, Muhajir al-Shami and Abu Hassan al-Nuaimi.
The alliance's swift move to round up al-Qaeda members is connected with the advance of the "Islamic State of Iraq and Syria" (ISIS) towards Idlib, said strategy analyst and retired Egyptian officer Maj. Gen. Yahya Mohammed Ali.
Al-Qaeda elements in Idlib will be strengthened if they communicate with ISIS, he said, since the two groups are ideologically and politically close at the moment, in light of the political developments in Syria.
Struggle within al-Qaeda branches
"The current conflict can be characterised as a struggle for control and expansion among the various branches of al-Qaeda," Ali noted.
Al-Qaeda veterans have gathered in some areas of Idlib under the name of "Al-Furqan Supporters" (Ansar al-Furqan), and have gained full control of several towns, he said.
This indicates the conflict between al-Qaeda veterans in ANF and supporters of ANF leader Abu Mohammed al-Joulani was already present, despite ANF's attempts to downplay tensions between the two, Ali said.
"It is possible that a large number of ISIS leaders and elements have been able to reach areas controlled by [the al-Qaeda veterans], after escaping from areas ISIS recently lost, such as al-Raqa, Deir Ezzor and Albu Kamal," he added.
The preference of ISIS fighters for linking up with al-Qaeda-affiliated groups is due to ANF's desperate efforts -- including through its formation of Tahrir al-Sham -- to avoid being perceived as terrorists, he said.
By distancing itself from the name and brand of al-Qaeda, ANF seeks to avoid becoming the target for coalition airstrikes, especially in its main stronghold of Idlib, and to gain a foothold in the Syria political process.
Al-Zawahiri statement is revealing
The statement issued by the Tahrir al-Sham dissenters followed a statement issued by al-Qaeda leader Ayman al-Zawahiri, said Egyptian military analyst, al-Qaeda specialist and retired army officer Maj. Gen. Abdul Karim Ahmed.
This is the first time al-Zawahiri has publicly revealed that ANF's allegiance to al-Qaeda has not been revoked, he told Diyaruna, as his statement stresses that ANF needs his approval in this matter.
Al-Zawahiri's exhortation that "the allegiance of anybody who has pledged to us is a binding contract that is not allowed to be breached and must be fulfilled", is a clear indication to ANF elements, especially veterans who are ideologically loyal to al-Qaeda, that their allegiance is still to al-Qaeda, he noted.
By calling on ANF elements loyal to al-Qaeda who reject the recent roundup of al-Qaeda elements to communicate with their leaders, al-Zawahiri is calling for an open confrontation with ANF, Ahmed said.
"This means that the situation has reached the point of no return between the two sides," he explained.
Al-Qaeda profits from ISIS decline
As ISIS's influence in Syria declines, Ahmed added, al-Qaeda is trying to entice extremist elements to re-join its ranks, and al-Zawahiri is well aware there are hundreds of extremists who are not in agreement with ANF's current attitude.
These fighters have no choice but to return to the mother organisation, he said.
The situation in Syria is not in their favour, he added, in light of the international war on terrorism, which has put extremist groups at risk of coalition airstrikes.
In light of these circumstances, he said, "al-Zawahiri is exploiting the difficult conditions these fighters face in an attempt to revive the entity of al-Qaeda".