Restoration work has brought a small part of the famed Old City souk in Syria's Aleppo back to life.
The Old City of Aleppo, a UNESCO World Heritage site, and its souk have been devastated by the six-year war in Syria. But on November 16th in the Souk al-Jumruk, local officials reopened a part of the market that has been restored.
The Khan al-Jumruk souk has been renovated and is seeing the return of a significant number of merchants to their shops, residents tell Diyaruna.
"I never dreamed that the markets of Aleppo would be back to business as usual after years of war and destruction," said Ghalib al-Tahan, a retired government employee from Aleppo.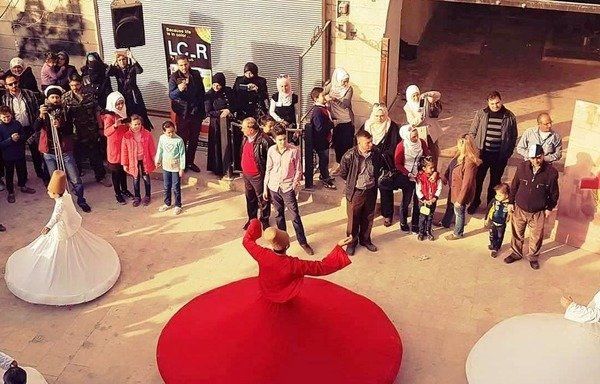 "The joy amongst residents is palpable," he told Diyaruna.
Market bustles with people
For the occasion of the area's reopening, a four-day street market was set up by the Association of Merchants and Businessmen, with traders selling handicrafts, traditional carpets and even the famed Aleppo soap on stalls along the alleyway, AFP reported.
The market drew a large crowd of visitors, which prompted traders to extend the exhibition by a few more days, especially as the holiday season is fast approaching, said Aleppo media activist Faisal al-Ahmad.
"Life is now returning to the city, and residents and visitors alike are once again flocking to the shops, particularly after reopening the Khan al-Jumruk market, one of the most famous in the city," he told Diyaruna.
Many businesses have reopened their doors, some that sell jewellery, and others that sell clothing, shoes and fabric.
Soap makers, weavers as well as traditional Syrian food vendors also have found their way back to the Old City souk.
The swift reopening of the shops revived the city "relatively quickly" after years of war that resulted in an exodus of residents and business owners, al-Ahmed said.
Aleppo merchants urged to return home
Initial reconstruction efforts focused mainly on renovating Aleppo's Old City markets, said Hussain Hammami of the committee to reconstruct the Khan al-Jumruk area and souk.
These markets are "the city's main lifeline", he said. "When the old markets bustle with activity, this commercial activity usually spreads to the rest of the city."
Work is underway to clear the remnants of war and rebuild and restore buildings, particularly the heritage protected sites, Hammami told Diyaruna.
Hammami said they worked to restore the Khan al-Jumruk souk with the support of the Aleppo Chamber of Commerce and in collaboration with businessmen who own shops in the market.
"As a result, 77 shops on the ground and top floors have been rebuilt so far and rehabilitation of the remaining shops is also underway," he said.
He added that the committee is also contacting merchants, commercial shop owners, factory owners and artisans to urge them to return to the city and commence work now that power, water and fuel are available again.
Business owners, who largely fled to neighbouring countries, have expressed a strong desire to return, he said, but said they needed more time to organise their affairs as most had established new businesses in their host countries.
Hammami said he expected a large portion of these business owners to "make their way back over the next few months".
Return 'inevitable'
Other parts of the Old City also have been renovated, al-Tahan said, including al-Aziziyah Square, Nadwat al-Shahba, al-Masjid Square and al-Jamiah Square.
Life is slowly returning to the city after schools have reopened and services, such as water and electricity, have resumed, he added.
"We have a family business selling traditional Damascene embroidered clothing, which is a world renowned artisanal art form," said Abed Attar, a shop owner in Khan al-Jumruk souk.
The return to Aleppo after a six-year displacement to Damascus was "inevitable", he told Diyaruna.
Ever since reconstruction operations were announced and the market was reopened, Attar's father began making arrangements for their return, he said, noting that they are currently working on moving their atelier in Damascus to start production in Aleppo.
"Aleppo is back to life and its streets are ready to welcome residents and visitors," said Attar.
All merchants are in agreement to bring down prices as much as possible in order to attract customers, he said, as the Old City is considered a national commercial hub.
Internal tourism has started to pick up pace, albeit slowly, he said, with Syrians from other provinces finding their way back to Aleppo after years of absence.