The Syrian Democratic Forces (SDF) announced a curfew in some areas of al-Raqa city, recently liberated from the "Islamic State of Iraq and Syria" (ISIS).
According to al-Raqa Internal Security Forces (RISF), the curfew is necessary to keep residents safe and protect them from mines and improvised explosive devices (IEDs).
The RISF offered its assurances that the situation would gradually return to normal as mine removal operations proceed towards completion.
Meanwhile, residents of the city's al-Mashlab district are returning in large numbers, RISF member Fahim Darwish told Diyaruna.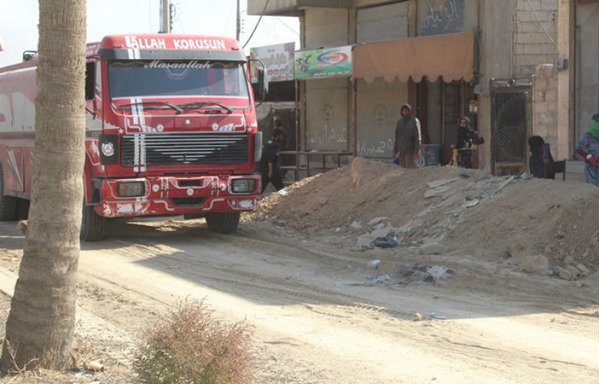 Al-Mashlab was one of the first areas to see its residents return after it was liberated, as it is one of the districts that suffered the least damage, he said.
It was necessary to announce the curfew in adjacent areas, however, and to prohibit residents from traveling from al-Mashlab to other parts of the city for their own safety, he said.
The curfew also is in effect in al-Mashlab during certain hours of the night.
Operations to clear explosives and remove rubble have yet to be completed, he explained, and their presence puts the lives of residents at grave risk.
Curfew is in effect
The curfew, which went into effect Tuesday night (November 14th) in the uninhabited areas of al-Raqa, will re-enforce security amid fears that ISIS fighters could infiltrate into the city in civilian clothes, Darwish said.
"They could take advantage of the haphazard return of internally displaced persons (IDPs) to hide among them," he said, "and carry out retaliatory attacks, or lie low as sleeper cells that would later cause harm to city residents."
The decision to impose the curfew was taken days ago, he noted, but its implementation was delayed until all residents of al-Raqa, and those staying in displacement camps outside it, have been informed, to ensure full compliance.
Al-Mashlab returnee Mohammed al-Halaq, 70, told Diyaruna that residents are gradually returning to the district now it has been completely cleared.
Co-operation is ongoing between al-Raqa Civil Council (RCC) and residents to complete the process of clearing the rubble and repairing infrastructure, including water, electricity and sewage networks, he said.
"Security is being handled by the RISF, and SDF units are positioned at the outskirts of the city and at the entrances of the areas yet to be cleared," he said.
"The curfew is necessary to protect the lives of civilians," he added, noting that a large number of residents have been killed and wounded by mines.
Al-Mashlab district returnees do not object to the curfew, he said, "as they all are aware of the danger of moving around, and in any case, moving about at night is only done in cases of emergency, such as illness".