Residents of the western neighbourhoods of Yarmouk, a Palestinian refugee camp on the edge of Damascus, have been suffering under a siege imposed by the "Islamic State of Iraq and Syria" (ISIS), activists told Diyaruna.
The group imposed a partial siege on September 14th on the pretext of squeezing out rival Tahrir al-Sham, an alliance dominated by the former al-Nusra Front (ANF), said activist and Yarmouk resident Bahaa al-Sahli.
"It turned into a full siege two weeks ago," he told Diyaruna.
The siege was imposed after residents refused to obey the orders ISIS issued regarding the conscription of men and youth into its ranks, and failed to comply with its dress code and changes to the school curricula.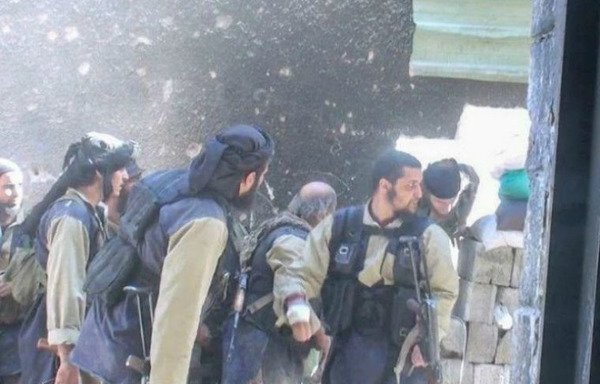 Around 40,000 people are affected by the siege, he said, which includes the districts of 15th street, 30th street, Ain al-Ghazal street, the al-Rija area, Haifa street and Saffouriya street.
"ISIS elements positioned on the outskirts of these districts are prohibiting all movement," he said, adding that around 50 residents have been detained for trying to bring in water, food and medicine from the nearby town of Yalda.
Education under threat
Al-Sahli said the siege has prevented children from going to school in Yalda.
According to local media reports, ISIS elements have threatened students and teachers with punishment if they go to schools outside the camp.
"Two schools in the besieged area were closed a while back as they prepared for the new school year due to the lack of teachers, who come from other parts of the camp," al-Sahli said.
"Health conditions in the besieged area are very poor due to the lack of basic foodstuffs and critical medicines and vaccines," said Naji al-Amer, who worked as a nurse at al-Basel hospital in Yarmouk camp before it was captured by ISIS.
There have been more than 200 deaths due to the lack of medical care, he told Diyaruna, adding that there are very few medical professionals left after hospitals and clinics were destroyed in the ongoing fighting.
"The latest victim of the lack of medical care was Shehada Mohammed Rajeh who died on November 4th," he said, just one day after a newborn child died due to a shortage of oxygen.
On November 1st, a 1-year-old girl died from cardiac arrest after suffering from convulsions and hypoxia, al-Amer said.
Appeals for help
Appeals have been put out to international missions, including the Syrian Arab Red Crescent and the International Committee of the Red Cross, to secure medical supplies or evacuate urgent cases, al-Amer said.
"However [ISIS] has continually answered with intransigence and refusal to allow the entry of any medicine shipment," he said.
After prolonged negotiations, the Red Crescent was able early this month to evacuate 23 elderly people and pregnant women who required urgent medical intervention from the besieged area, he said.
Majid al-Homsi, a retired teacher from the city of al-Raqa who lives in the camp, told Diyaruna that the situation in the camp is intolerable.
"There is no electricity, no water, no food and children are deprived of their most basic right of education," he said.
The area is in ruins from the endless battles and bombardment, he said, adding that ISIS snipers are positioned around the camp.
Al-Homsi said many of the camp residents have disappeared while attempting to slip out of the area to bring in food, water and medicine.
"The group's elements often arrest or open direct fire on them, and their bodies are still lying on the outskirts of the camp," he said, adding that some were killed while trying to escape by mines planted by ISIS elements.