The Iranian regime has been taking advantage of the Syrian conflict to further its own economic interests in that arena, a strategy evidenced most recently by a new raft of energy sector agreements, experts tell Diyaruna.
Syrian Minister of Electricity Mohammad Zuhair Kharboutli on September 12th signed a memorandum of understanding with his Iranian counterpart, Sattar Mahmoudi, regarding the provision of electricity services in Syria.
This anticipates the construction of a power plant in Latakia, an assessment of Aleppo's thermal power plant and rehabilitation of two natural gas-powered plants, the rehabilitation of power plants in Homs and Deir Ezzor, and the rehabilitation and reactivation of the main control centre of Syria's power grid.
"Since the first year of the war in Syria, Iran has sought to penetrate deep into Syria on the military, political, religious and social levels," said Al-Sharq Centre for Regional and Strategic Studies researcher Sami Gheit.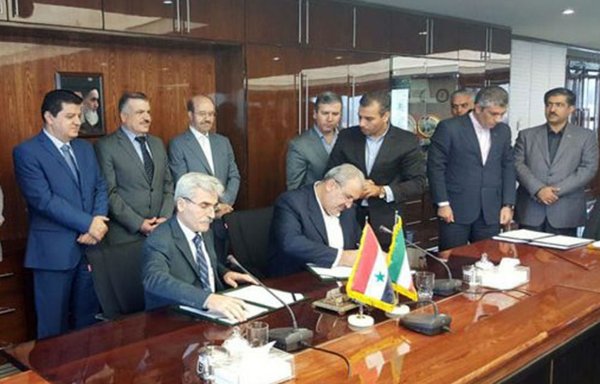 To this end, he told Diyaruna, private companies affiliated with Iran's Islamic Revolutionary Guards Corp (IRGC) have been taking advantage of the opportunity to seize control of the resources of the Syrian state.
IRRC-affiliated companies have managed to bind the Syrian regime with a range of contracts that cover industrial supplies, food, reconstruction, road rehabilitation and the rebuilding and rehabilitating of factories, he said.
"It is obvious that the main sectors are of high priority, as the Syrian electricity company is now fully dependent on Iranian stations, which also are run by Iranian engineers," Gheit said.
The Syrian regime's economic links to Iran are not a secret, he noted, as Syrian officials have announced numerous contracts through the media.
"Iran, meanwhile, set up the bait for Syria by increasing the credit line to more than $10 billion," he added.
Inside Syria, legislation has been issued to facilitate trade between the two countries and to allow Iran to obtain exclusive rights to supply Syria with raw materials and to secure reconstruction contracts, Gheit said.
Electricity sector in IRGC hands
The new electricity sector agreements between the Syrian and Iranian regime are not the first of their kind, Syrian lawyer Bashir al-Bassam told Diyaruna.
"A major deal was struck in late 2013, wherein the Syrian government signed large contracts with two Iranian companies, Sunir and Mabna, that at the time totaled $16 million," he said.
This included the import of spare parts for power plants and the maintenance and rehabilitation of power plants and grids damaged by the war, he said.
Kharboutli on September 10th announced he plans to visit Iran to sign contracts to import five electricity generators to be installed at Aleppo's generator station.
The contracts are worth $159 million, Syrian media reported.
"What is disturbing is not only the import of the spare parts needed to operate or repair damaged power plants, but rather that the contracts include maintenance and rehabilitation," al-Bassam said.
This effectively places the electricity sector in the hands of the IRGC, he said.
"The agreements supplemental to the contracts extend over many years and also will be detrimental to Syrian labour, as many young Syrians have the necessary expertise to manage, operate and maintain electrical projects," he said.
Binding, long-term contracts
"Iran, despite its apparent absolute support for the regime in Syria and its determination to see it survive, has been taking the necessary measures in case it falls and groups not loyal to it come to power," economist and Ain Shams University professor Shaher Abdullah told Diyaruna.
Iranian companies have extended their grip on Syria's economic resources by binding Syrian government institutions to long-term contracts, he said.
The Syrian regime is bound by these contracts, he noted, as terminating them carries heavy penalties that would include bearing the cost of raw materials, power plants and oil extraction and refining.
"These contracts represent long-term investments for the IRGC, which is trying to penetrate the countries of the region both militarily and economically to secure its own sources of income," he said.