Iraqi forces have secured the Hamreen hills in Diyala province, effectively blocking "Islamic State of Iraq and Syria" (ISIS) fighters fleeing the battle of al-Hawija from seeking refuge in the area, a military official told Diyaruna.
Meanwhile, Iraqi forces on Wednesday (October 4th) pushed into al-Hawija, stepping up their assault on one of the last ISIS enclaves in the country, AFP reported.
The army, federal police and rapid response force have begun a major operation "to liberate the centre of al-Hawija and the neighbouring town of Riyadh", said al-Hawija operations commander Lt. Gen. Abdel Amir Rashid Yarallah.
Elite units have entered the city from the north-west, amid artillery and missile bombardments of ISIS positions, federal police chief Raed Shakir Jawdat said.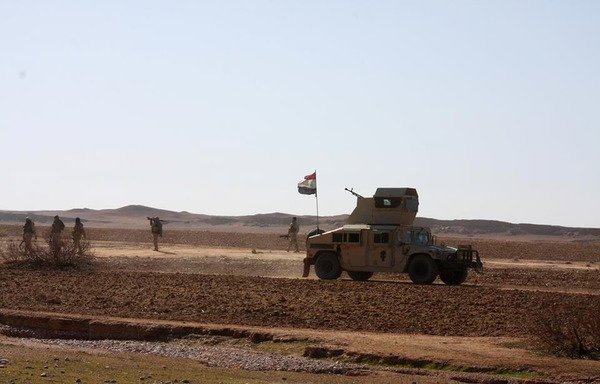 "They are advancing and the goal is to take seven neighbourhoods of al-Hawija and 12 vital objectives," he said, without providing more details.
Nowhere to run
The Hamreen hill chain is a vast, geographically complex area extending from the north of Kut province to southern Mosul, Tigris operations commander Lt. Gen. Muzhir al-Azzawi told Diyaruna.
"In the part of the chain within our command's sector of responsibility in Diyala province, our forces have full control and it is very secure," he said.
"We have security posts and a massive military deployment, and our operations continue in co-operation with the rest of the military and security formations and the tribes to hunt down and eliminate all ISIS elements," al-Azzawi said.
"We have destroyed many of their bases, most recently a few days ago, when we killed 15 terrorists who were inside a secret camp located between the city of Khanaqin and the Khana oil region (in the Hamreen hills)," he added.
Vehicles, motorcycles, weapons and ammunition that were in the hands of ISIS fighters in the camp were burned down, he said.
Pre-emptive operations such as this have played a major role in thwarting ISIS attacks in Diyala cities, al-Azzawi said.
"Today, Diyala is safe and people's movement and agricultural and commercial activity are normal, and our forces will crush any ISIS member who tries to disrupt this state of stability," he said.
Nowhere to hide
Some ISIS sleeper cells remain, al-Azzawi said, "and we are pursuing them and constantly apprehending their members".
"Their danger will vanish as soon as the city of al-Hawija is retaken and their sources of guidance are defeated," he said.
ISIS has lost many areas in the Hamreen hills, including Makhoul, al-Fatha (al-Malih) airport and the Allas and Ajeel oilfields, he said, stressing that the battle to liberate al-Hawija "will completely end the terrorist presence".
Security plans are in place that address all potential challenges "and tackle all sources of threat", he said.
Security forces "will not allow the terrorists fleeing from [al-Hawija] to cross into Hamreen and the cities of Diyala", al-Azzawi said. "We are ready to fight any infiltration and will be on the lookout."