New splits have emerged in the ranks of the Tahrir al-Sham alliance, which is dominated by the former al-Nusra Front (ANF), in western rural Aleppo province, activists told Diyaruna.
The splits have stemmed from serious disagreements between the group's leadership and members of the Ibn Taymiyyah Brigades in the town of Daret Azza, they said, and coincided with popular demonstrations against Tahrir al-Sham and the resignation of its leader.
The Ibn Taymiyyah Brigades, which had joined Tahrir al-Sham in July, announced on Sunday (October 1st) that it has fully split from the alliance, Aleppo media activist Faisal al-Ahmad told Diyaruna.
The brigades control a key area in western rural Aleppo, particularly the city of Daret Azza, he said.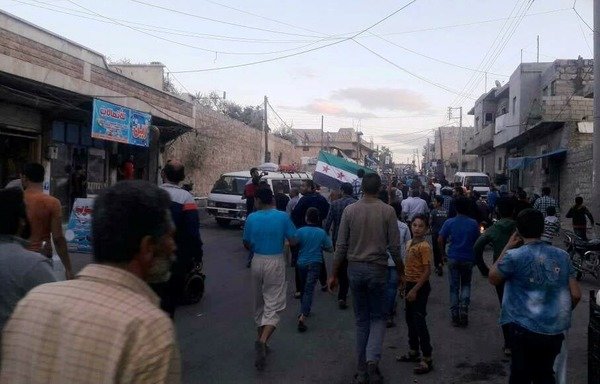 On Monday, Tahrir al-Sham took control of Daret Ezza after it surrounded the town and forced the brigades to surrender all their positions.
Armed clashes between the two sides had erupted over the past week after Tahrir al-Sham elements deployed in areas under the brigades' control attempted to arrest one of their officials, Abbad Fendo.
"The situation escalated quickly on Sunday after a Tahrir al-Sham security patrol arrested sheikh Osama Shannaq," said al-Ahmad, an administrative official with the Ibn Taymiyyah Brigades.
"The arrest led to scattered clashes and demonstrations that marched through the city of Daret Azza demanding that Tahrir al-Sham elements permanently leave the area," he added.
Splits, changes plague Tahrir al-Sham
The Ibn Taymiyyah Brigades is the third faction to have announced its split from the alliance since it was formed on January 28th, after Nureddine al-Zinki and Ahrar al-Sham.
Several prominent scholars have also resigned from the alliance, including radical Saudi cleric Abdullah al-Muhaysini, who was a founding member of Tahrir al-Sham, and Musleh al-Alyani.
Also on Sunday, Tahrir al-Sham announced that leader Abu Jaber Sheikh had resigned from his position.
Abu Jaber Sheikh, who was the former Ahrar al-Sham chief, had named himself as commander in chief of Tahrir al-Sham after it was formed in January. He will now preside over the alliance's shura council, the group said in a statement.
Abu Mohammed al-Joulani, ANF's leader and the top military commander of Tahrir al-Sham, will now assume the leadership of the alliance, the statement said.