ISLAMABAD -- The "Islamic State of Iraq and Syria" (ISIS) released an audio recording Thursday (September 28th) purportedly of its leader, Abu Bakr al-Baghdadi, exhorting members to "resist" their enemies amid strategic losses in Iraq, Syria and Afghanistan.
It was not clear when the message, released by an ISIS-affiliated media group, was recorded.
In it, someone sounding like the ISIS leader lashed out at the countries in the international coalition that have inflicted heavy losses on ISIS militants in Syria and Iraq.
"The leaders of [ISIS] and its soldiers have realised that the path to... victory is to be patient and resist the infidels whatever their alliances," al-Baghdadi allegedly said in the recording. "We will remain, we will resist and be patient... We will not give in."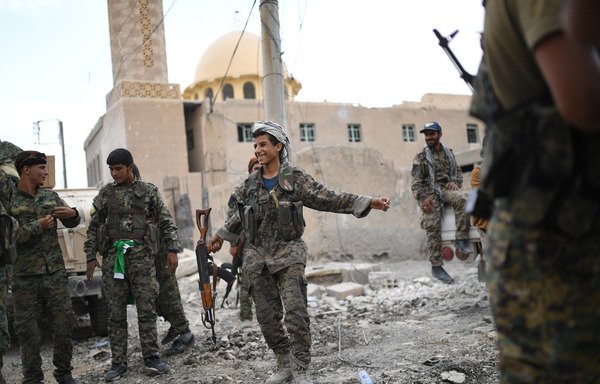 Thursday's message, if authenticated, would be the first from al-Baghdadi since last November, when he urged the ISIS militants defending the Iraqi city of Mosul to fight until the end.
Shortly thereafter, unity among ISIS members unraveled, followed by months of defections, infighting and the eventual loss of Mosul in July of this year.
Once claiming nearly a third of Iraqi territory under its dominion in 2014, ISIS now controls only a small section of the country with Iraqi and international forces besieging the militants on all sides.
In Syria, the siege of al-Raqa, the so-called capital of the ISIS 'caliphate', continues, while the group's territory in that country rapidly shrinks.
In Afghanistan, where ISIS attempted to create a headquarters in Nangarhar Province, Afghan and coalition forces have dealt heavy blows to the group in the past year.
No more 'fight until death'
Even though al-Baghdadi is seeking to create a unified front, a recent shift in strategy suggests the terror network is on its last legs on the global level.
"ISIS which once vowed to fight till death is now witnessing a shift in its strategy," according to a report published September 15 by the Institute of Strategic Studies Islamabad (ISSI), pointing to a recent battle on the border of Lebanon and Syria.
During a six-day battle in August on the Lebanese-Syrian border, ISIS suffered a humiliating defeat, the report said.
The surviving ISIS members -- numbering more than 300 -- and about as many of their relatives negotiated a safe passage for themselves to the town of Deir al-Zour in Syria, near the Iraqi border, Public Radio International reported.
"This shift in strategy from 'fight till death' to surrendering and demanding a safe passage marks a strategic shift in the policy of ISIS," the ISSI report said.
"The group ... is now caught in a struggle to survive," according to the report's author, ISSI Research Associate Muhammad Abbas Hassan.
The negotiation brings "ISIS one step closer to elimination", he said. "The deal has also given hopes to the forces that are engaged against the group that it can now finally be defeated."
Extinguishing ISIS once and for all
"Intervention by a few international powers has dealt a blow to the might of ISIS in Syria that has further weakened this militant organisation globally," said Brig. (ret.) Mehmood Shah of Peshawar, former security secretary for the Federally Administered Tribal Areas (FATA).
"Bloody clashes between ISIS and the Taliban in Afghanistan in April were another indication that ISIS was in trouble and would not be able to sustain itself there for a long time," Shah said.
Because the Taliban have neither joined ISIS nor accepted its ideology, ISIS's survival in Afghanistan -- and its ability to penetrate Pakistan -- have been imperilled, he said.
"ISIS may lose in Iraq and Syria as a central caliphate, but its franchises will remain a source of trouble in different parts of the world, including Pakistan and Afghanistan," said Abdullah Khan, managing director of Islamabad-based security think tank Pakistan Institute for Conflict and Security Studies.
"ISIS will remain a global threat, and people inspired by its ideology will keep attacking here and there," he said, referring to "lone wolf" sympathisers outside its strongholds in the Middle East.
For those reasons, negotiating with ISIS should be discouraged, the ISSI report said.
"If allowed to restructure, the group might come back again with a more brutal force," it said. "To stop such incidents and as a prerequisite to peace, ISIS needs to be eliminated altogether."
"The dwindling flame of [the] self-proclaimed caliphate needs to be extinguished," the report concluded.
"International powers should join hands to discourage proxy wars, militancy and to launch an offensive against ISIS to end bloodshed across the world," Mubasher Mir, security analyst and resident editor of the Daily Pakistan in Karachi, told Pakistan Forward.
"Without unanimous efforts by the international community, militancy cannot be eliminated from the world," he said.
[Javed Mahmood contributed to this report.]