Groups of "Islamic State of Iraq and Syria" (ISIS) fighters positioned in and around the Yarmouk Palestinian refugee camp in Damascus have been collapsing as a result of increased desertion and defection, a local activist said.
A large number of ISIS fighters have abandoned the group, he said, while those who remain have been unable to hold on to areas they once controlled.
"The ISIS group in Yarmouk and its vicinity has in recent days seen an increase in dissent among its members," said camp resident and activist Bahaa al-Sahli.
There have been defections to other groups in the region, in addition to numerous desertions, he told Diyaruna.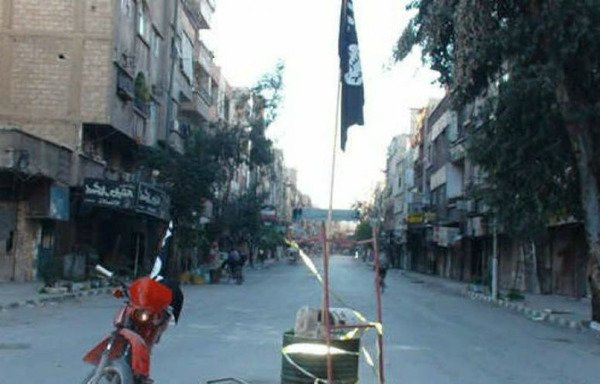 These have heightened the tension in the areas under the group's control, he said, as ISIS has ratcheted up measures to assert its control inside the camp.
The wave of dissension began after some opposition groups struck a deal with the Syrian regime to move to the city of Idlib and to Jarablus in Aleppo province, al-Sahli said.
Most of those opposition groups had been positioned in the camp and in al-Qadam area in southern Damascus, he explained.
This prompted ISIS elements to abandon their positions in the camp's al-Hajar al-Aswad section and head to al-Qadam, in an attempt to flee the region among those who were being transported out of the camp, he said.
These defections heightened tensions in the camp and triggered infighting among the remaining ISIS elements, the defectors and other groups, which flared up in al-Thalatheen street, Palestine street and al-Shuhada intersection.
"ISIS elements blocked all roads and passes from al-Hajar al-Aswad to al-Qadam area in an attempt to stop the desertions and defections," he added.
Crackdown inside the camp
Recently, al-Sahli said, ISIS appointed a new emir, a Palestinian smuggler named Abu al-Izz al-Dahman, to oversee its fighters in Yarmouk camp.
Al-Dahman's appointment was intended to tighten the group's grip on the camp and prevent the desertion of its members, al-Sahli said.
He has attempted to reassert the group's control by staging a brutal crackdown on camp residents, which initially included blocking students from attending schools in areas outside the camp.
This is because schools in the towns of Beit Sahm, Babbila and Yalda, are not controlled by ISIS and do not teach its curricula, al-Sahli said.
When protests erupted, however, al-Dahman rescinded his decision, and instead banned the students from studying course material that the group considers "suspicious" and out of line with its harsh interpretation of sharia, he said.
Students are still being searched at the group's checkpoints on the way to school and back each day, he said.