A number of military factions that had been operating in northern Syria under the banner of Tahrir al-Sham have announced their split from the alliance, as have several well-known clerics, a Syrian activist told Diyaruna.
On Tuesday (September 12th), a number of clerics and armed factions announced their split from the extremist alliance, which is dominated by the former al-Nusra Front (ANF), Idlib media activist Musab Assaf told Diyaruna.
The stated reason for the split was that a number of leaked audio recordings posted online revealed the group's emirs marginalised and scorned the clerics.
"However, the real reason is the prevailing apprehension among the leaders and in the ranks of the factions leaving the alliance that ANF could become the target of a military strike to eliminate its presence in northern Syria," Assaf said.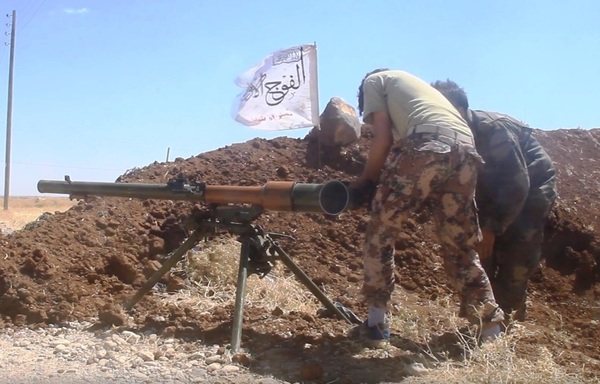 The factions that opted to leave are unwilling to defend it, he said, especially as the real reason for the establishment of the alliance has been exposed: to enable ANF to hide among the other factions and evade the anticipated strike.
The resignation of the scholars, radical Saudi cleric Abdullah al-Muhaysini, who was a founding member of the alliance, and Musleh al-Alyani, from the alliance has been confirmed, Assaf said.
Their resignation will have a significant impact on the positions of many of the groups that are allied with Tahrir al-Sham and their emirs and elements, he added, owing to the influence wielded by the scholars.
Local factions leave
Notable among the groups leaving the alliance are Katibat Abu Rabei, which announced its merger with rival Ahrar al-Sham, and Katibat Fadi al-Hisyan, which is positioned in the Shahshabo mountain in rural Idlib province.
Other groups include al-Fawj al-Awal, positioned in rural Idlib and rural Aleppo, Katibat Ahfad Omar, positioned in rural Idlib, Katibat al-Ansar wal Muhajireen, positioned in Sarmada in rural Idlib, and Katibat Suyuf al-Islam, which operates in western rural Aleppo.
"Although these groups are poorly equipped and limited in number, they consist of local fighters from the areas in which they operate," Assaf said.
"By joining Tahrir al-Sham, they spared the alliance from having a hostile relationship with the people of those areas," he said.
Now that they have split from it, he added, these areas will be totally out of the control of the alliance and consequently of ANF.