The former al-Nusra Front (ANF), having first changed its name to Fatah al-Sham Front and then taken cover under the auspices of the Tahrir al-Sham alliance, is trying to change its name once again, activists told Diyaruna.
Faced with resistance in the Eastern Ghouta region of Damascus, the group has proposed the establishment of a new conglomerate that includes all factions in the region under a new name, said Mohammed al-Beik of the Eastern Ghouta co-ordination committee.
The move comes in response to an increase in the number of protests staged in rejection of its presence in the region, he said, which have sparked clashes with other opposition factions as well as with civilians demonstrating against it.
The proposal came in a statement circulated on Tuesday (August 1st), al-Beik told Diyaruna, adding that opposition factions in the region swiftly rejected it.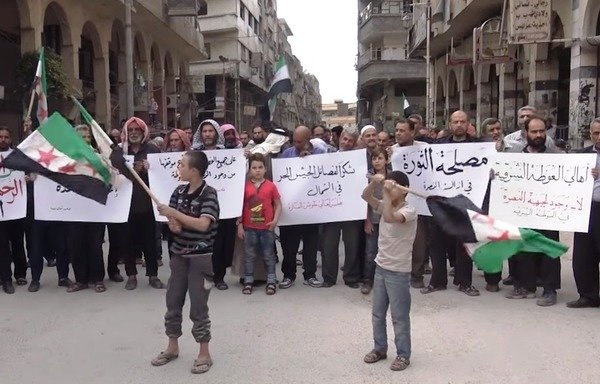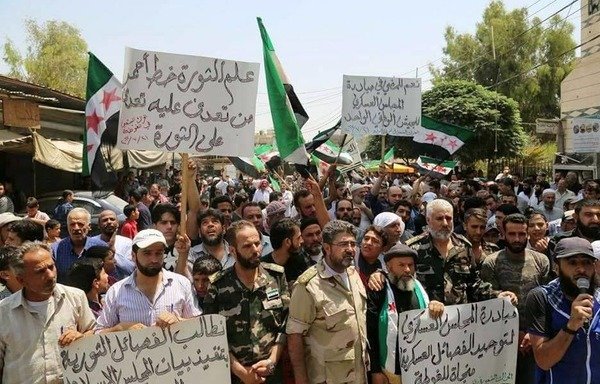 Tensions roil Eastern Ghouta
Tensions have peaked between Free Syrian Army (FSA) affiliate Faylaq al-Rahman and ANF, culminating in clashes in the last week of July in the Hamouriya area, al-Beik said.
The two also fought fierce battles in April that left dozens dead on both sides.
"Most towns and villages in Eastern Ghouta reject the presence of ANF," al-Beik said, noting that there have been direct confrontations between the extremist group and local residents, especially in the town of Kafr Batna.
In Kafr Batna, Tahrir al-Sham opened fire on demonstrators to disperse them, after the protesters shouted slogans calling for the alliance to leave.
Meanwhile, daily demonstrations are being held in the towns of Ain Tarma and Erbeen in support of the FSA, with protesters demanding that ANF dissolve itself or leave the region, al-Beik said.
"Residents of Eastern Ghouta are seeing the situation they are in deteriorate as a result of ANF's presence," he said, noting that the areas where the alliance has a presence have come under heavy shelling.
This was the case in Ain Tarma, which was heavily shelled by regime forces who claimed ANF was present in the town, he said, noting that other areas are seeing truces or at least a reduction of tensions.
Hiding behind other factions
ANF is trying to take advantage of the ceasefire agreement, which is designed to ease tension between the Syrian regime and its allies and moderate opposition factions, said Faylaq al-Rahman unit commander Wael al-Tokhi.
"ANF is excluded from the agreement, reached in July, which applies to several parts of Eastern Ghouta," said al-Tokhi, who is also known as "Abu Firas al-Dimashqi".
As Faylaq al-Rahman is present in the same areas as ANF, he said, it has not been able to benefit from the ceasefire.
"Opposition faction leaders in the region know full well that the international community rejects ANF, which has been designated as a terrorist group," he said, which is why it changed its name in the first place.
"Since this ruse did not work, it is trying to find any way to avoid coming under a military attack," he added.
Faylaq al-Rahman has rejected the proposal to join a military conglomeration under a new name, al-Tokhi said.
The group had previously called on ANF elements to defect and join its ranks or leave for Idlib, he said.
After this, several ANF elements did in fact leave, he said, but internal pressure was quickly applied to prevent more of them from leaving for Idlib, as that threatened to end the group's presence in the Eastern Ghouta.