Extremist alliance Tahrir al-Sham -- dominated by the former al-Nusra Front (ANF) -- has summoned a number of women in rural Idlib to appear for questioning, activists told Diyaruna.
This follows the participation of a large segment of the female population in near-daily demonstrations in and around the city of Maarat al-Numan to express their rejection of the alliance's rule.
Tahrir al-Sham's "Islamic police" summoned about 18 women in Maarat al-Numan and the southern Idlib town of Hazareen to report to the Marayan police station for questioning on Monday (July 31st), activist Hani al-Numan said.
They did not inform the women and girls why they were required to appear, al-Numan told Diyaruna, using a pseudonym out of concern for his safety.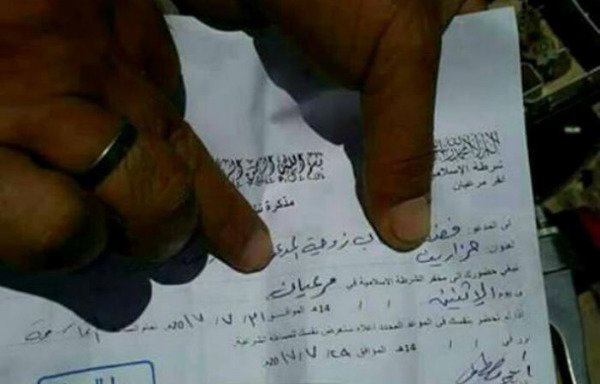 "Activists have since learned from some members of the Islamic police that summons were issued to women who took part in the demonstrations being held throughout the region to express rejection of Tahrir al-Sham's rule," he said.
The husbands of some of the women who received summons are actively involved in the organisation and co-ordination of the demonstrations, he added, speculating that the summons were intended to pressure them to desist.
Repression of basic rights
Local residents rejected these summons as a repression of their basic rights, and staged demonstrations against them on Sunday and Monday, al-Numan said, especially in the city of Maarat al-Numan.
"Monday's demonstration denounced the summons and the summoned women refused to report to the police station at the specified time," he said.
In response, Tahrir al-Sham elements closed off many of the city's streets and aimed heavy machine guns at the demonstrations, he said.
This aggressive response signals a change from past instances, he noted, "when the alliance's fighters withdrew from the streets to avoid contact with civilians".
The demonstrators raised the flag of the Syrian revolution, which is prohibited by the alliance, he said, and demanded that Tahrir al-Sham elements leave the area and enable local civic administrative institutions to resume operations.
They also called for Sheikh Ahmad Alwan to be reinstated as head of the sharia court, he said, noting that Alwan was dismissed by Tahrir al-Sham after it took control of the city on July 23rd following the withdrawal of Ahrar al-Sham.