A militia linked to Iran's Islamic Revolutionary Guard Corps (IRGC) lost one of its top commanders and co-founders in the battles in Syria, a blow that analysts said will adversely affect the militia's structure and its fighters' morale.
The Fatemiyoun Brigade, comprised of Afghan Shia mercenaries, is fighting alongside the IRGC, Hizbullah and other Iran-backed Iraqi militias in Syria.
"Social media accounts belonging to IRGC and Fatemiyoun Brigade elements have confirmed that Ali Jafari, the second in command of the Fatemiyoun Brigade, was killed in the ongoing battles in Syria," said Cairo University doctoral student Sheyar Turko, who has been researching the financing of the IRGC.
Jafari was killed while fighting alongside other IRGC-affiliated groups, he told Diyaruna.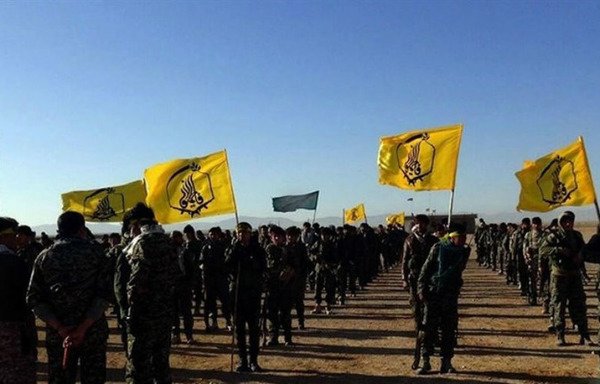 The Iranian Fars news agency also confirmed the news of his death on July 12th, describing him as a commander and co-founder of the Fatemiyoun Brigade, he said.
"Jafari became the brigade's most powerful figure and top commander after the death of its commander Ali Tusli in 2015 in the Daraa battles," Turko said.
Other prominent figures in the Fatemiyoun Brigade have recently been killed in Syria, including commander Mohammad Ibrahimi who hailed from the Iranian city of Qom, Iranian news agency Jam News reported on July 9th.
Blow to the morale
"Regime forces obviously thrust this militia into a battle whose outcome was disastrous for them," Turko said.
"Such blows undoubtedly have an adverse effect on the morale of these sectarian militias whose members fight like mercenaries," he added.
Additionally, it presents further evidence of Iran's involvement in the ongoing war in Syria, he said, both through the direct presence of IRGC officers on the ground or through IRGC's support of sectarian militias.
"The Fatemiyoun Brigade is one of the sectarian militias that were formed by the IRGC [in 2014] to fight in Syria under the pretext of protecting sacred shrines," he said.
It recruits fighters mainly from the approximately 3 million Afghans living in Iran.
It has about 20,000 fighters, according to Iranian media, and has suffered the largest losses among the various IRGC-backed militias fighting in Syria, according to other media reports.
Heavy fighting in Syrian Badiya
"It is very likely that Ali Jafari, along with a large number of Fatemiyoun Brigade [militiamen], were killed in battles" that have been raging in Syria's Badiya region, said Riad Shahoud, a Free Syrian Army (FSA) officer operating in the Syrian desert.
Syrian regime forces, backed by armed militias and air and artillery cover, have been trying to advance in the Badiya region since July 7th, he told Diyaruna.
FSA factions intercepted them and fierce fighting ensued, he said, adding that the FSA inflicted heavy human losses on regime forces and their allies.
"The Fatemiyoun Brigade was one of the militias that took part in those battles alongside the regime's army, as evidenced by the bodies and personal items that were found in the battlefield," he said.