Iraqi forces fought to eliminate the last pockets of "Islamic State of Iraq and Syria" (ISIS) resistance in Mosul on Monday (July 10th) after the premier visited the devastated city to congratulate troops on securing victory.
With the extremists surrounded in a sliver of territory in Mosul's Old City, attention was turning to the huge task of rebuilding the city and of helping civilians, with aid groups warning that Iraq's humanitarian crisis was far from over.
PM Haider al-Abbadi visited Mosul on Sunday and hailed Iraq's "heroic fighting forces" after months of difficult battles that have left much of the city in ruins.
The Old City in particular has been devastated, with many buildings reduced to little more than concrete shells and rubble littering the streets.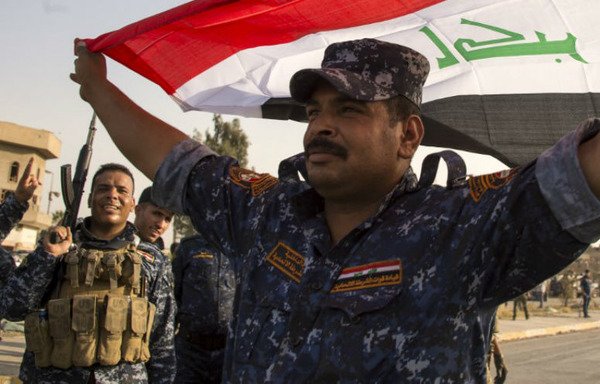 Upon his arrival in the city, al-Abbadi's office said he was visiting "liberated" Mosul to congratulate troops on a "major victory".
The PM later said that while "victory is certain", he was holding off on making a formal declaration "out of my respect and appreciation for our... forces that are continuing the clearing operation".
Senior commanders said on Monday that Iraqi forces were engaged in "heavy" fighting with ISIS remnants, but that the battle was near its end.
Iraqi forces have raised the Iraqi flag on the Tigris river banks, Ninawa Operations Commander Lt. Gen. Abdul Ameer Rashid Yarallah told Diyaruna.
"We bring to the Iraqi people the good news of the victory of good over evil in Mosul," he said.
"There are still a few terrorist pockets hiding inside houses which we are trying to take out before we officially announce the liberation of Mosul and the end of the military operations," he said.
Iraqi forces are currently conducting search operations and evacuating the residents and providing assistance to them, he said.
Lt. Gen. Sami al-Aridhi of the elite Counter-Terrorism Service (CTS) said the extremists had been reduced to an area of the Old City of about 200 by 100 metres.
"They do not accept to surrender," al-Aridhi told AFP.
But "operations are in their final stages", he said, and "it is likely that (the fighting) will end today".
Civilians trapped
Al-Aridhi said his forces had information that there were between 3,000 and 4,000 civilians in the area but that could not be independently confirmed.
Backed by the international coalition, Iraqi forces launched their campaign in October to retake Mosul, which was seized by the extremists during the mid-2014 offensive that saw them take control of large parts of Iraq and neighbouring Syria.
Army, police and special forces, backed by waves of airstrikes, seized the eastern side of the city in January and launched the battle for its western part the next month.
The fight grew tougher when security forces entered the densely populated Old City on the western bank of the Tigris River, which divides the city, and intense street-to-street fighting followed.
The cost of victory has been enormous: much of Mosul in ruins, thousands dead and wounded and nearly half the city's population forced from their homes.
The UN has said 920,000 people fled their homes during the Mosul operation, and while some have returned the vast majority remain displaced.
"It is a relief to know that the military campaign in Mosul is ending. The fighting may be over, but the humanitarian crisis is not," Lise Grande, the UN's humanitarian co-ordinator in Iraq, said in a statement.
The UN refugee agency on Monday said it could be many months before civilians are able to return to their homes.
"It is likely that thousands of people may have to remain in displacement for months to come," UNHCR said in a statement.
'Nothing to go back to'
"Many have nothing to go back to due to extensive damage caused during the conflict, while key basic services such as water, electricity and other key infrastructure, including schools and hospitals, will need to be rebuilt or repaired," it said.
Twenty-eight aid groups working in Iraq issued a statement calling for international support for rebuilding efforts and urged authorities not to press civilians to return.
"Remaining insecurity; lack of basic services; explosive hazards contamination; and damage to homes, businesses and public infrastructure -- including schools and hospitals -- all continue to pose barriers to return," said the statement signed by groups including the Norwegian Refugee Council, Oxfam and Save the Children.
It also raised concerns for Iraqis still in areas under ISIS control, including the towns of Tal Afar and al-Hawijah in the north, as well as territory in western Anbar province.
"For the expected offensives in al-Hawijah, Tal Afar and western Anbar, where approximately 150,000 civilians are thought to still be trapped, it is vital that lessons are learnt from past offensives," the aid groups said, calling for access to safety and assistance to be prioritised.
France, Britain and the EU congratulated Iraqi forces on Sunday, with the EU hailing "a decisive step in the campaign to eliminate terrorist control in parts of Iraq".