Nowadays, identity verification centres are spread out across liberated parts of Mosul city to check the official identification documents of residents and verify them against a database of wanted terrorists.
This step comes as part of a large-scale operation launched on June 1st to rout "Islamic State of Iraq and Syria" (ISIS) elements hiding among the local population.
Al-Arbajia neighbourhood resident Mohammed Arfan, 57, is one of hundreds of men who have been subjected to a security check at al-Badie Mosque in eastern Mosul.
"It was a necessary step," he said of the procedure to verify his identity. "As civilians, we are in favour of such measures and support them."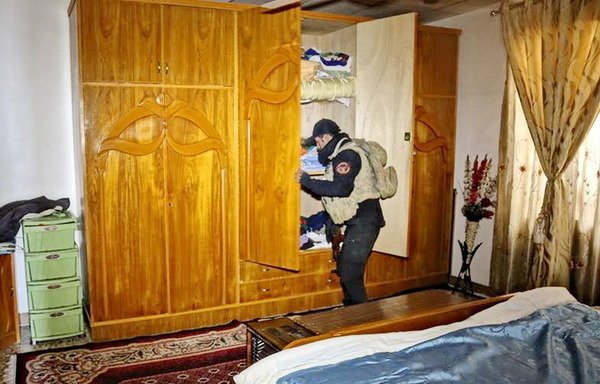 "No one wants to have terrorists roam free in the area," he told Diyaruna. "We have had enough of them."
"Our co-operation with the security forces is the only guarantee for stability, so we do not fall prey to ISIS again," Arfan said.
Identity verification process
The verification centre at al-Badie Mosque is one of dozens of similar centres set up by the security forces in mosques and school courtyards in eastern Mosul as part of the operation.
Identity verification is being carried out by specialised security committees from local police and armed forces, as well as the national security forces and intelligence services, security expert Saeed Nimah al-Jayashi told Diyaruna.
"This step is part of efforts to stabilise the liberated cities and to hinder the work and proliferation of secret ISIS units, known as sleeper cells," he said.
"The goal is to find ISIS militants hiding amongst civilians and to prevent them from threatening the local community, in order to secure a safe and terrorism-free environment," he added.
The verification process, which takes just a few minutes, involves collecting official identity documents from residents who come in to the centre and verifying them against the digital database of wanted terrorists.
Additionally, security patrols are visiting homes and checking people's ID cards to see whether their security record is clean, al-Jayashi said.
"The verification process in general is divided into two types," he said. "The first is intelligence verification of adults to determine whether they have had any involvement with ISIS."
The second is "verification of information, such as questions regarding household income, the number of inhabitants, their jobs and their relation to the family, among other things".
Welcome measures
"Residents are showing strong support for such security measures because they do not want terrorists to come back and traumatise them again," al-Jayashi said.
The ongoing security inspections have elicited strong local support, said Ninawa provincial council security committee member Hassan Shabib.
"It is important for us to create a strong partnership between local residents and the security services," he told Diyaruna.
People have to feel they have transitioned to a new stage based on justice, freedom and dignity, he said, stressing that earning residents' trust is important to ensuring the flow of intelligence.
"Residents of Mosul have stood by the security forces during operations to liberate their city and provided information, in spite of being persecuted and threatened by ISIS," said Ninawa provincial council member Banyan al-Jarba.
"After the liberation, you see a hike in intelligence and reports filed by residents," he told Diyaruna. "This is a positive sign, showing they want to build a new future for their city."