Iraqi forces on Monday (June 19th) pushed deeper into Mosul's Old City, the last part of the city still held by the "Islamic State of Iraq and Syria" (ISIS).
After a months-long offensive, joint military units from the Rapid Response Division, the Federal Police and Counter-Terrorism Service (CTS) launched a final assault at dawn to retake the district.
"The attack is the most complex of its type," Rapid Response Division spokesman Lt. Col. Abdul Ameer al-Mohamedawi told Diyaruna. "The battlefield is full of civilians, and fighting is taking place from house to house because of the narrow streets."
"Nonetheless, we are making encouraging progress," he said. "Our forces have destroyed the gunmen's main defensive line around the district, and have entered it from three pivots -- the north, west and south."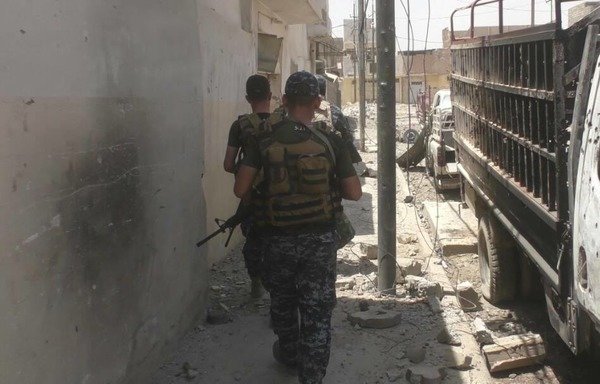 Iraqi forces have taken back al-Farouk street and al-Hadeen mosque in the Old City, said Joint Operations Command spokesman Brig. Gen. Yahya Rasul.
A number of ISIS gunmen have been killed so far, he told Diyaruna, including "Abu Bakr al-Masri, a senior leader in the group".
Warnings via loudspeakers
Iraqi forces have stationed Humvees mounted with loudspeakers near the Grand Mosque in liberated east Mosul, facing the Old City where ISIS is making its last stand.
The loudspeakers have been blaring messages to ISIS fighters, telling them: "You have only this choice: surrender or die."
Messages also were broadcast to civilians in the Old City, informing them that Iraqi forces "are about to end your suffering", AFP reported.
Late Sunday, Iraqi forces dropped nearly 500,000 leaflets over the city, warning that they "have started attacking from all directions".
The leaflets urge civilians to "stay away from open places and... exploit any opportunity that arises during the fighting" to escape.
Civilians used as human shields
The UN has said ISIS may be holding more than 100,000 civilians as human shields in the Old City.
"There are probably 300 ISIS fighters barricaded inside residents' houses" in the Old City, al-Mohamedawi told Diyaruna.
Four safe corridors have been opened for civilians who are still trapped, he said, but "the enemy does not hesitate to target escaping residents with shells and sniper fire".
"[ISIS] gunmen have carried out mass executions against several displaced families to intimidate the remaining residents and force them to stay at home," he said.
They also have detained many civilians inside one house, and are using them as bait against advancing Iraqi forces, he added.
"This tactic has now become known, and we are dealing with it cautiously," he said.