A radical Saudi cleric with links to al-Qaeda on Friday (June 16th) survived an assassination attempt, in which a suicide bomber attacked his car as he left Abi Thar al-Ghafari mosque in the Syrian city of Idlib.
Abdullah al-Muhaysini confirmed he had survived the attempt on his life in a video posted on social media, saying the bomber had been killed, while he and other occupants of his armoured car emerged unscathed from the wreckage.
The attacker, who was wearing an explosives belt, is thought to be linked to the "Islamic State of Iraq and Syria" (ISIS), Idlib media activist Mahmoud Haj Kamel told Diyaruna.
Saudi-born al-Muhaysini is a founding member of Tahrir al-Sham, an alliance of extremist factions that includes the former al-Nusra Front (ANF), and serves on its sharia council, Haj Kamel said.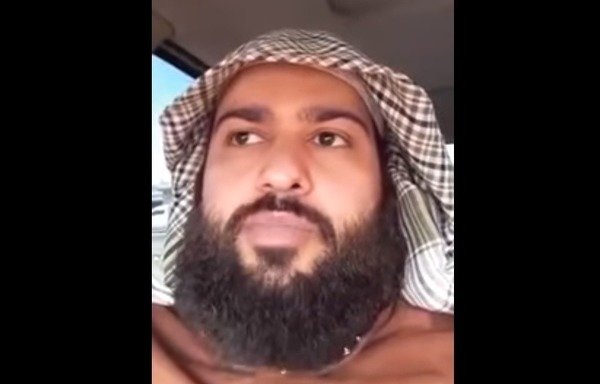 His names appears on a list of 59 individuals and 12 institutions accused of financing terrorist organisations and receiving support from Qatar that was jointly issued by Saudi Arabia, the UAE, Egypt and Bahrain earlier this month.
In November 2016, the US Treasury added him to its list of designated terrorists "for acting for or on behalf of, and providing support and services to or in support of, ANF".
Al-Muhaysini was an accepted member of ANF's inner leadership circle, the treasury said, noting that as of July 2015, he served as the group's religious advisor and represented it in an Idlib province military operations room.
"He has been involved in recruiting fighters to join ANF and helping to form a new ANF 'state' in northern Syria," the treasury said. "In April 2016, al-Muhaysini launched a campaign to recruit 3,000 child and teenage soldiers across northern Syria for ANF."
"Al-Muhaysini has played a crucial role in providing financial aid to ANF, the treasury said, noting that between 2013 and 2015, he "raised millions of dollars to support ANF governance efforts in Idlib province" and in 2015 "had set up institutions providing financial aid to terrorist groups".
Heightened tensions between factions
The attempt on al-Muhaysini's life comes amid heightened tensions in the region, where extremist groups are embroiled in vicious infighting, Idlib activist Haj Kamel said.
As ISIS faces mounting losses in Iraq and Syria, al-Qaeda and its affiliates have made an open play to draw disenfranchised fighters into their ranks.
Residents of the Idlib province town of Maarat al-Numan last week expelled Tahrir al-Sham from the town following days of demonstrations and confrontations.
The security situation in the city of Idlib and its surrounding areas is very bad, Haj Kamel noted, as assassinations, improvised explosive devices (IEDs), kidnappings and thefts have become routine.
On the day of the attempt on al-Muhaysini's life, Sheikh Ibrahim al-Saleh, a judge at al-Dana Islamic court in Idlib province who is known to have ruled on a number of disputes between the factions, was assassinated, he said.
Two bombings took place in the city on the same day, he added.