In a stark violation of the sanctity of the holy month of Ramadan, the "Islamic State of Iraq and Syria" (ISIS) claimed two attacks that killed at least 27 people in Baghdad, officials said on Tuesday (May 30th).
In the deadliest of the two attacks, a suicide bomber detonated an explosives-rigged vehicle at a popular ice cream shop at around midnight, killing at least 16 people and wounding 75, AFP reported.
The bomber struck just days after the start of Ramadan. Images and footage posted on social media showed the devastating impact of the blast, which ripped through the crowded area around al-Faqma ice cream shop in the Karrada district of central Baghdad, where people had gathered for refreshments after iftar.
One photo showed cups of ice cream scattered on the blood-stained ground.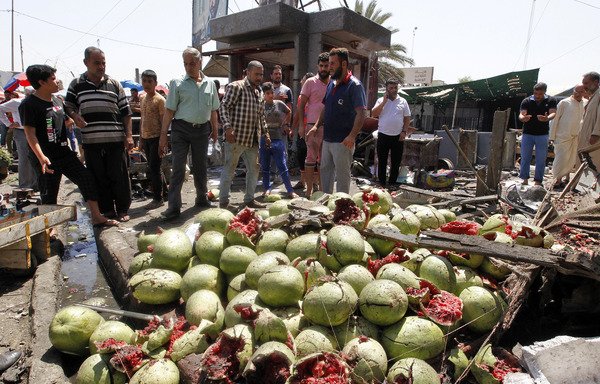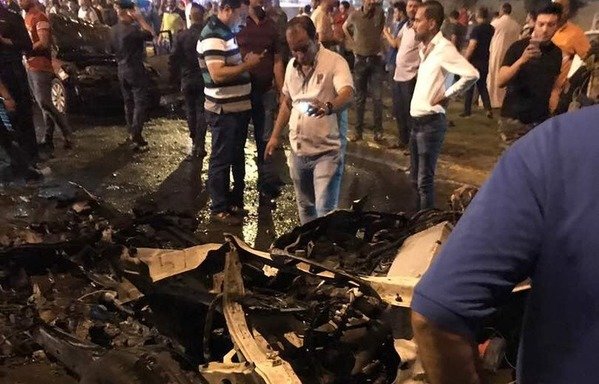 A video showed one of the survivors crying near the body of his friend. "He was going to get married next week," he said.
Other pictures showed a child crying near a dead woman's body amidst massive panic and chaos.
"A number of vehicles were also burnt, and nearby shops were damaged," said Saad al-Matlabi of the Baghdad provincial council's security committee.
"Many women and children were among the victims," he told Diyaruna. "Ambulances rushed to transfer the wounded to the Neurosurgery Teaching Hospital, while others were taken to the nearby Zayed Hospital."
In the second attack, on Tuesday morning, a bomb-rigged vehicle blew up near the country's main pension office, which is close to al-Shuhada Bridge, one of the principal bridges over the Tigris River.
The attack killed at least 11 people and wounded at least 40, officials said.
Two policemen were among those killed, al-Matlabi said.
Pre-emptive operations ongoing
"ISIS is trying to exploit security loopholes to target civilians with total disregard of Islamic values and the sanctities of the holy month of Ramadan," security adviser Fadel Abu Ragheef told Diyaruna.
"However, these attacks do not mean that the Iraqi security forces are unable to stop the group, for they are a small part of all the [terror] attempts that the security forces thwart," he said.
Intelligence agencies regularly launch major pre-emptive operations, Abu Ragheef said.
Last week, Iraqi forces seized five vehicles packed with explosives, he said.
On May 19th, they prevented four other booby-trapped vehicles from entering Basra and Baghdad, and a few weeks before that, they seized four trucks loaded with improvised explosive devices (IEDs) and explosive vests, he added.
Al-Qaim: origin of car bombs
The car bombs that target Baghdad originate in al-Qaim and al-Rutba desert in western Anbar province, one of the last remaining ISIS strongholds in Iraq after the group's successive defeats in Mosul, said MP Hakim al-Zamili, chairman of the parliamentary security and defence committee.
Al-Qaim and al-Rutba desert have become a safe haven for ISIS elements, he said in a statement.
"After they fled from Mosul, the Anbar desert became an assembly point, a headquarters for their camps and a base from which they launch their attacks on Baghdad, Samarra and Diyala during Ramadan," he added.
"The Karrada car bomb came from al-Qaim through al-Sukur checkpoint," he said.
Security measures need to be more stringent in holding to account individuals who drive vehicles without number plates, al-Zamili said, and around military bases and checkpoints in Karrada.
"We expect more attacks on Baghdad, Diyala and Salaheddine," he said, urging for enhanced intelligence efforts and increased monitoring of crowded areas that may be targets for terrorism.