The remote detonation of car bombs and the use of suicide bombers is an offensive tactic often employed by the "Islamic State of Iraq and the Levant"(ISIL) in its quest to instill fear among the population and gain or hold ground.
Since the start of the battle to liberate Mosul, the group has detonated hundreds of car and truck bombs across the city, targeting civilians and security forces.
Mazen Hassan, 46, who resides in east Mosul's Aden neighbourhood, has been trying to restore what is left of his home after it was hit by a car bomb on November 9th.
Hassan and his family were not at home when the attack occurred, he told Diyaruna, but the explosion was quite strong and severely damaged his house and the nearby area.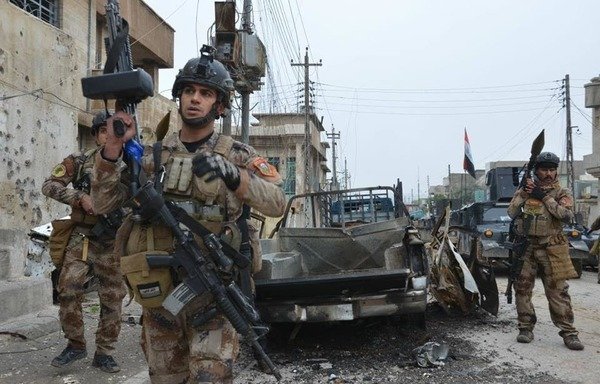 On that day, at least 10 ISIL suicide car bombs targeted Aden. The armed forces were able to intercept them and detonate them before they reached their targets, damaging the houses in their vicinity but sparing human lives.
"Hardly any neighbourhood in eastern Mosul has escaped the damage caused by ISIL's car bomb attacks", Hassan said. "These attacks also have taken the lives of many innocent people."
Reduced capabilities
According to official data, ISIL has attacked the liberating forces using 632 car bombs over 45 days since October 17th when the battle for Mosul began.
With fighting moving over to the western side of Mosul, these attacks have dropped considerably, officials said.
The fighting has "drained the enemy" and it is no longer capable of launching large-scale car bomb attacks as it did at the beginning of the battle, Joint Iraqi Operations Command spokesman Brig. Gen. Yahya Rasul told Diyaruna.
The militants "have started stealing people's cars from their homes and rigging them with explosives to target our forces and the civilian population", he said.
They also use cargo and tanker trucks to make up for the shortage in vehicles and suicide bombers by trying to cause the most damage possible, he added.
"Unarmed civilians have been the worst off, as car bombs have gone off in residential areas and alleyways, causing destruction to buildings and homes and killing residents," Rasul said.
However, "these attacks have now lost their novelty and we are able to stop the car bombs before they reach their targets", he added.
Air support
Iraqi forces have been able to thwart most car bomb attacks, Rasul said, "even when ISIL has used armoured vehicles that are difficult to target with light weapons".
The Iraqi military is relying on reconnaissance aircraft with missile carrier facilities to detect and target car bombs.
"Air support from the Iraqi and coalition air forces also has helped destroy several ISIL car bomb workshops in Mosul," he said.
From April 1st to 17th, coalition raids over Mosul destroyed nine car bomb workshops, seven booby-trapped vehicles and several ISIL combat positions and weapons caches, according to official sources.
On April 3rd, Iraqi war planes killed 50 militants and destroyed a tank rigged with explosives that had been heading for al-Baaj in west Mosul.
'Playing the civilian card'
ISIL considers car bombs a key component of its offensive strategy, said Ghazwan Hamid, who chairs Ninawa provincial council's displaced persons committee.
"The group not only aims at [Iraqi] military targets but also residential areas where the civilian population is concentrated in order to blame the liberation forces for their death," he told Diyaruna.
ISIL has been using civilians as human shields, Hamid explained, sometimes rounding them up in large groups in houses located close to conflict zones.
This tactic places civilians in direct danger, he said, and is designed to hinder the progress of the liberating forces who are forced to hold their fire.
Since the February 19th launch of the operation to liberate west Mosul, around 350 civilians have been killed in car bomb attacks, sniper fire or as a result of being used as human shields, Hamid said.
In mid-April, the Ministry of Defence issued instructions to trapped civilians in west Mosul, urging them to stay home and keep away from areas where ISIL gunmen are concentrated.
It instructed them to escape as soon as they can, if they are no longer safe inside their homes.
Iraqi Observatory for Human Rights director Mustafa Saadoun told Diyaruna that ISIL is "playing the civilian card" to recoup its losses and prolong the fighting.
The group has deliberately targeted civilians using several methods in an attempt to ease the military pressure on it, he said.
"We are using our own private channels to assist the military in protecting civilians by issuing alerts and information regarding any threats that could affect them, particularly the threat of car bombs," he said.