Operation Wrath of the Euphrates spokeswoman Jihan Sheikh Ahmed, a Syrian Democratic Forces (SDF) commander, is one of the most prominent women fighting the "Islamic State of Iraq and the Levant" (ISIL).
Influenced by the biographies of great women she read as a child, the al-Raqa native -- a former artist and human rights activist who has gone on to become a combat leader on the battlefronts against ISIL-- decided to make her own mark.
At the outbreak of Syria's war, she was among the first women to join the Kurdish People's Protection Units (YPG), and in April 2013 co-founded the Women's Protection Units (YPJ).
The YPJ is the first all-women army in the Middle East and was one of the founding components of the SDF when it was established in October 2015.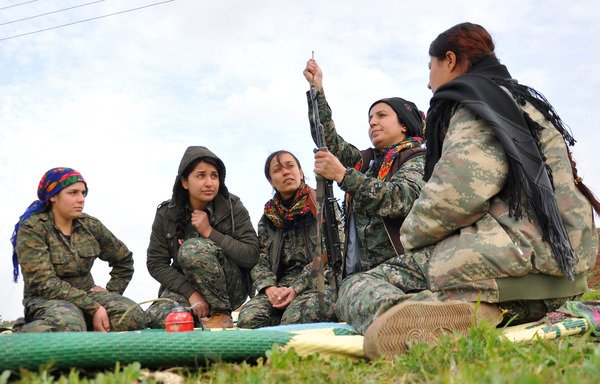 In an exclusive interview with Al-Mashareq, Ahmed, who now commands an army of women on the battle's front lines, spoke about the latest developments in the battle for al-Raqa and the role of women in that fight.
Al-Mashareq : Can you tell us about yourself?
Ahmed : I was born and raised in al-Raqa, which accompanies me like my shadow wherever I am today.
My family lived on Ibrahim Hanano Street, west of the train station. We were the only Kurdish family in the region and I grew up among the diverse Arab component, which enriched my cultural background.
I studied fine arts and worked for many years as a teacher in the city's schools.
I had a happy childhood, most of which I spent reading the life histories of the greats, particularly women. I was influenced by them, and decided that one day I would make every woman proud. Reading helped build my awareness at an early age.
Al-Mashareq : What prompted you to fight and participate in the founding of the YPJ and later the SDF?
Ahmed : The revolution itself, and the oppression ISIL is inflicting on women and the people.
I joined the YPG in early 2011 and participated in the fighting against ISIL and al-Nusra Front (ANF) on the battlefronts in Rojava, and was seriously wounded in the battle for the city of Sere Kaniye [Ras al-Ayn] at the end of 2012.
I went back to al-Raqa for treatment and left when the Free Syrian Army (FSA) entered al-Jazira region and Ras al-Ayn.
A group of women fighters and I saw the need for the establishment of a women's protection unit to lift the injustice women are suffering at the hands of ISIL and give them confidence in themselves and their abilities.
We held a conference on April 2, 2013, in which we made important decisions, including the launch of the unit to protect women and to develop their capabilities so they may become active and pioneering participants.
We wanted women to have confidence in themselves and get to know their personality and history.
What is happening in Syria and my city al-Raqa and my childhood memories are the factors that drive me to do everything I do today.
Al-Mashareq : What has your participation as a commander given you?
Ahmed : All the campaigns in which I have participated to date have given me strong combat experience. They have given me tremendous confidence in myself and in Kurdish and Syrian women.
They also have deepened my ideology regarding the importance of co-existence among all components of the population, which I had experienced firsthand.
Al-Mashareq : What motivates your involvement in the battle for al-Raqa?
Ahmed : I was in al-Raqa when the FSA entered the city and I witnessed the suffering. I left the city, but my family remained and lived for two years under ISIL's rule. [...] My family witnessed ISIL's horrific actions and killing and flogging of innocents.
I was very moved by what my family told me after they fled from al-Raqa to Kobani, which we had liberated.
My nephew told me how ISIL beheaded people and my sister told me that ISIL elements used to gather children, as punishment, to witness the beheadings so as to instill the culture of terror and murder in their hearts.
What I heard from them, and the fact that thousands of women were under threat by ISIL, always serves as strong motivation for me to be at the vanguard of the upcoming battle. It is my humanitarian and national duty to be at the forefront of al-Raqa campaign, because it is my city that I know.
It is our duty as the YPJ and SDF to liberate it and lift the injustice inflicted on [its residents], wherever they may be, and on other citizens.
Al-Mashareq : How would you describe your readiness for this battle?
Ahmed : I am living historical moments and my zeal propels me forward, because I do not accept that my city be the capital for ISIL's destructive and immoral plots. I look forward to liberating it because it is the city of my childhood and the city of co-existence and peace.
What is happening today is very painful, and we will avenge its women and people. I am preparing for it with high morale, great determination and enthusiasm that words cannot describe.
I am proud of my participation in the battle, and the people of al-Raqa, both women and men, are proud of me.
I recently met a woman who had fled al-Raqa some time ago, and she told me that every time she sees me she feels proud to be a woman.
Such words please me greatly and motivate me to fight more for women and their history and for my country, people and land.
In the battle for al-Raqa, I will use the experiences of past years as I have grown militarily, ideologically, politically and culturally.
We and the SDF, with international support, are preparing for a historic battle in which we as women are going to have a leading role.
Al-Mashareq : What about the number and combat capabilities of the women fighters involved in the Wrath of the Euphrates campaign?
Ahmed : The number of fighters increases every time we liberate a new village or area from ISIL.
There are 10,000 women involved in the campaign, with a similar number receiving training on the use of weapons.
Thousands of mature women who have been oppressed by ISIL have joined our campaign over the course of its three phases, and now carry weapons.
They eagerly await the battle. One recently-freed young woman said that just as we freed them, they want to free other women.
The new recruits undergo military training on the use of weapons as well as ideological training so they can actively participate and to develop leadership spirit in them.
Al-Mashareq : What are the latest developments in the battle for al-Raqa?
Ahmed : We have completed three phases of the campaign to date. We liberated northern, western and eastern rural al-Raqa, and cut off ISIL's supply lines between Deir Ezzor and al-Raqa with the aim of besieging the city from three sides.
Bear in mind that the area's natural terrain is difficult, and extends over vast areas.
We also cut off the strategic route linking the city to Mosul.
Our comrades are currently operating along two axes, the first is Abu Khashab, where they are conducting sweep operations in the villages along the Euphrates River in eastern rural al-Raqa, and fierce clashes are ongoing in the town of al-Karama, where ISIL is positioned.
We also are working to seal off the fourth side of al-Raqa in order to liberate it.
Al-Mashareq : What would you say to Syrian women, based on what you represent to them today?
Ahmed : I would tell them to be proud of their philosophy of a free life and to discover themselves and the capabilities and qualifications they have.
I appeal to Syrian women everywhere to join the revolution in order to shape it.
We want them to be leaders and participants in the birth of a free Syria, in which all components of society will be represented.
I tell them that it is they who give birth and give life and embody it, and must join the revolution of their own free will and identity. They are the ones who make the revolution and history and who will write the new history.