By accepting military assistance from Iran, Yemen's Houthis (Ansarallah) are pursuing an agenda that serves the interests of that regime and undermines their claim to be an independent national movement, experts tell Al-Mashareq.
There is ample proof that Iran has been smuggling weapons and other military equipment to the Houthis for some years, despite its repeated denials, they said.
On January 28th, the UAE's official news agency, WAM, reported that its air force had destroyed an Iranian-made reconnaissance plane in Yemen.
According to Yemen's then Deputy Chief of Staff Maj. Gen. Ahmed Saif al-Yafei -- who was killed in a missile strike last month -- the incident occured near the Red Sea port of Mokha, where there has been heavy fighting.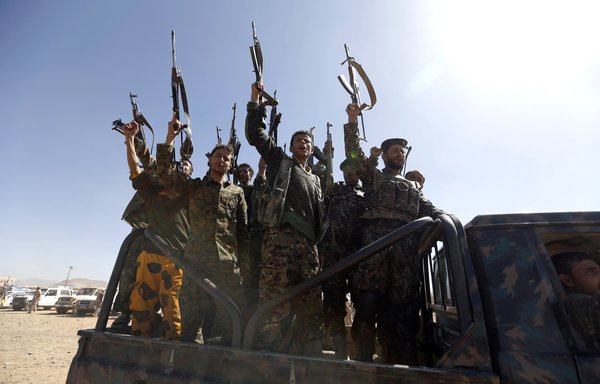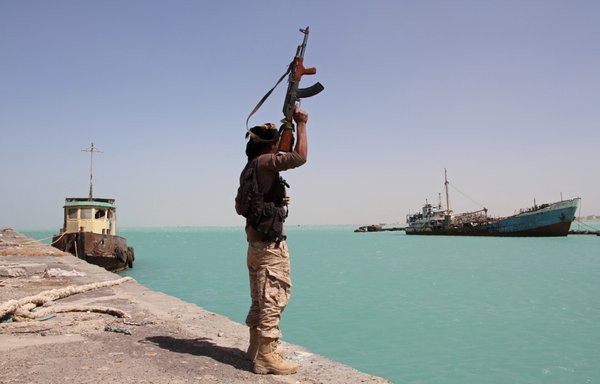 There was no immediate reaction to the incident from Iran or the Houthis.
Separately, a number of media outlets have reported that Iranian-made drones operated by the Houthis have been shot down by UAE and Yemeni forces.
In December, Yemeni forces intercepted a shipment of spy drones in Marib that had been headed to the Houthis.
Iranian support for the Houthis
"Iran has its own agenda that it seeks to implement in the region by imposing its hegemony over the region through its armed proxies," political analyst Rashad al-Sharaabi told Al-Mashareq.
Through its proxies, which include Hizbullah in Lebanon and various Iraqi militias it funds and trains, the Iranian regime seeks to control the region and its waters and block any power that could present an obstacle to its projects, he said.
"The Iranian support for the Houthis undercuts [Yemen's] national institutions," al-Sharaabi said, adding that it is "blatantly obvious" that the regime is providing them with weapons, training, money and media support.
Before the Houthis overran Sanaa and staged a coup against the legitimate government on September 21, 2014, Yemeni forces seized several ships laden with weapons and military communications equipment in sovereign waters.
These included the arms-laden cargo ship Jihan, seized in January 2013.
Coalition forces have since seized many other weapons shipments destined for the Houthis along Yemen's 2,500-kilometre coastline, al-Sharaabi said.
According to international reports, he said, many weapons and missiles also have been seized that had been manufactured in 2015 and were not among those plundered from the Yemeni army's arsenal by the Houthis.
The Houthis' actions refute their claims of patriotism and show they are not staging an independent revolution, he said.
'Clear violation' of UN resolutions
"The Houthis are unable to pay the salaries of government employees, looted and misused the government's reserves totaling $5 billion and continue to receive large quantities of qualitative advanced weapons," al-Sharaabi said.
This clearly implicates the party providing them with support, he said, in violation of UN Security Council resolution 2216.
"Independent rebels cannot be a tool that implements an Iranian agenda with Iranian support, both direct and through intermediaries," he said.
Multiple reports reveal that Iran and Hizbullah are involved in supplying the Houthis with weapons "in clear violation of international resolutions" issued under Chapter VII of the UN charter, said Yemeni political analyst and writer Abdul Malik al-Yousefi.
"The international community is apparently beginning to tire of Iran's tampering," he told Al-Mashareq, referring to Iran and Hizbullah's role in undermining international peace and threatening regional security.
Direct sanctions on Iran may be imposed in this regard, he said.
"A close examination of Security Council resolution 2342 finds a strict tone and harsh penalties on Iran's proxies in Yemen. In fact, Article 12 of the resolution clearly opens the possibility of tougher sanctions in view of non-compliance with the previous resolution," he said.
"Resolution 2341 that preceded it pertained to threats to international peace and the sanctions that would be imposed on those who threaten it," he said.
A proxy war serving Iran
As for the Houthis, al-Yousefi said, "no independent patriotic revolutionary would accept weapons from a party that is using them to fight the people of his country and the capabilities of its people".
"An independent national movement does not operate pursuant to external agendas and does not accept conditional support, especially military and media support," political affairs researcher Adnan al-Humairi told Al-Mashareq.
"The Houthis are carrying out a proxy war for Iran to serve Iran's interests in the region and control the oil-rich Gulf," he said.
"The missiles and drones the Houthis used in battle, some of which struck coalition warships, serve Iran's interests in causing concern and undermining the security of international navigation in Bab al-Mandeb strait," he said.
The strategic shipping lane is of key significance as a third of the world's oil production passes through it, al-Humairi said.
Abaad Centre for Strategic Studies director Abdulsalam Mohammed likened the actions of the Houthis to those of armed extremist groups operating in Yemen.
The Houthis are a militia that acquired weapons to kill, overthrew the government and are threatening the security of the region and international shipping lanes, he told Al-Mashareq.
Iran and Hizbullah have violated UN resolutions that ban supplying the Houthis with weapons, which has escalated the acts of violence, exacerbated the humanitarian tragedy and exhausted the state, he said.
'Not a national revolution'
"The Houthis do not represent an independent national revolution at all, because their project is not a national one to begin with," political affairs researcher Yassin al-Tamimi told Al-Mashareq.
"When the Houthis become involved in the coup of September 21, 2014, they tried in vain to replicate the Iranian Islamic revolution, and Iran did in fact announce that it was behind the move by the Houthis," he said.
Iran's description of the Houthis as staging "an Islamic revolution" confirms "the non-patriotic nature of what the Houthis did", he added.
The involvement of Iran and Hizbullah in providing military support to the Houthis in the planning and financing of the coup is one of the main factors "that embroiled the country in a civil war that opened the country to chaos", he said.
"The Houthis caused the death of more than 10,000 Yemenis, the wounding of tens of thousands and displacement of millions, endangered cities, schools and mosques, disrupted life and contributed to the dismantling of the state," he said.
This environment made it possible for extremist groups such as al-Qaeda and the "Islamic State of Iraq and the Levant" (ISIL) to expand in Yemen, he said.
"The Lebanese Hizbullah [militia] sent experts to Yemen on behalf of Iran to train the Houthis, and this body of evidence is no longer a secret to anyone," al-Tamimi said.
"We are seeing the crime of targeting an entire country by Iran and its proxies in the region with the intent of overthrowing the regime and replacing it with one that is pro-Iran and to achieve political objectives through the use of military force," he said.