From his home in northern Baghdad, Abu Muslim recalled the moment, on January 13, 2015, when he learned that his brother Jawad had been killed as he fought in the ranks of an Iraqi faction supporting the Syrian regime.
"I will not forget that cold evening," he told Diyaruna.
Abu Muslim said he received a phone call informing him that his only brother had been killed in Aleppo, and that his body would arrive home within a few days.
At first he thought there must have been some mistake, he said, but when he realised it was real, "I threw the phone out of my hand and burst into tears".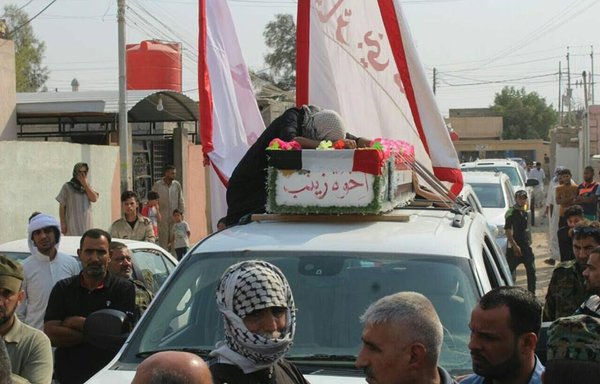 "I did not want to believe it," he said. But "with the arrival of the body, all doubts were over".
"He was not just a brother; he was like my son," Abu Muslim said. "I raised him after the death of our parents."
Jawad left behind a wife and two children, he added.
He is one of many Iraqi men serving in Iran-backed militias that have been fighting in support of the Syrian regime since the spring of 2011.
Abu Muslim said his brother, who served in Asaib Ahl al-Haq -- a militia funded and trained by the Quds Force, a special forces unit of Iran's Islamic Revolutionary Guards Corps (IRGC) -- "went to fight under the name of defending religious belief and sanctuaries".
His decision to fight cost him his life, he said.
Preying on the poor
Religious fervour is not the only reason young men join the fight in Syria.
Money tempts many who face unemployment and poverty, said Sheikh Thaer al-Bayati, secretary-general of the Salaheddine Arab Tribal Council.
"Militias such as Asaib Ahl al-Haq, al-Nujaba Movement and Kataib Hizbullah managed to lure the poor young with tempting salaries," which vary from one fighter to another based on seniority and combat function, he said.
These militias, which have offices in Baghdad and southern provinces, are responsible for financing, equipping and training these young men "and sending them in batches through Iraqi and Iranian airports to fight in Syria", he said.
"A lot of our young people who are recruited by these offices were led to death under the pretext of supporting the [Shia] doctrine, while the fact is that they have become firewood for a grim sectarian war that only serves Iran's ambitions," he said.
Iraqi armed factions do not disclose the number of fighters killed in Syria, but media reports put these deaths in the hundreds. There are no reliable figures available on the numbers of Iraqi youth who are currently fighting in Syria.
"These may increase or decrease as required by Iranian orders," said Najeh al-Mizan, deputy secretary-general of the Arab Project in Iraq.
Iran-backed Iraqi factions maintain an armed presence in Syria under the pretext of fighting terrorism, he told Diyaruna, and deploy on the orders of IRGC commander Qasem Soleimani.
These militias announce their intention to participate in the fighting, "wherever and whenever asked by the Wali al-Faqih [Iranian Supreme Leader Ali Khamenei]", he said.
Policy of non-interference
Al-Mizan urged the Iraqi government to take strict measures to discourage the activity of such militias, given "their defiance for the rule of the law and the state and disregard for the lives of citizens".
These militias threaten the safety and security of the country, he said.
"The Iraqi constitution is clear on the issue of respecting the principles of good neighbourliness and non-interference in the internal affairs of countries. This is part of the international obligations on Iraq," he added.
On December 20th, Iraqi Prime Minister Haider al-Abbadi announced that any Iraqi entity fighting in Syria does not represent Iraq, stressing that Iraq does not want to participate in regional conflicts.
According to political analyst Ghanem al-Aabed, the government should actively apply the policy of non-interference in Syria's war and bring the activities of all armed factions under control.
"We have enough challenges," he told Diyaruna. "There is a battle against the 'Islamic State of Iraq and the Levant' (ISIL) and many problems" that need attention.
"We do not want armed presence in Syria to continue," he added. "We do not want our young people to die in a war that does not make sense. We are fed up with wars; this is what is inside every Iraqi."