Security
|
2017-02-08
East Mosul residents return to pick up the threads of their lives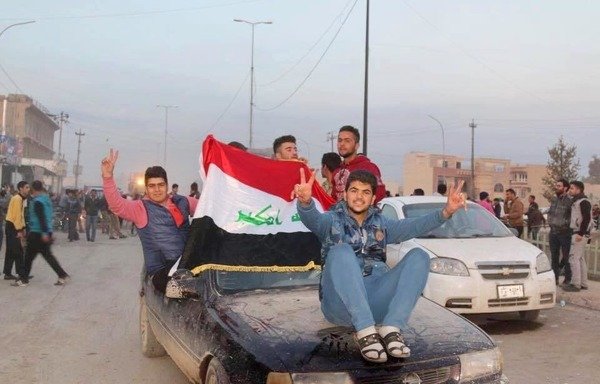 A sense of normalcy is returning to East Mosul after thousands of residents have come back to their homes and are trying to revive their former lives.
When the "Islamic State of Iraq and the Levant" (ISIL) swept into Mosul in 2014, they shut down Marwan al-Hayali's beauty salon declaring it un-islamic.
The group "absolutely prohibited practicing this profession", al-Hayali told Diyaruna, which forced him to sell some of his shop's contents out of necessity.
Now that Iraqi government forces have pushed the militants out of east Mosul and are poised to attack the west, al-Hayali has returned to his home in al-Zahra neighbourhood after spending nearly two months in displacement with his family in Hassan Sham camp.
"I have not been able to enjoy the taste of comfort and reassurance until now," he said.
"I thank God for the blessing of liberation; we were alive, but really we were dead," he said. "Our neighbourhood is now enjoying security and markets have reopened their doors."
Gradual return of services
"We only need services," al-Hayali said. "We suffer from a lack of drinking water and power cuts, but everything will go back to the way it was for sure as we are seeing a noticeable activity by service departments."
Al-Hayali said he recently borrowed money to reopen his shop and started working again to support his family.
Life is quickly resuming in east Mosul, said Ninawa provincial council services committee member Hosam Eddin al-Abbar.
Service departments personnel are working tirelessly to resume all services and clear the area of ISIL's remnants of war despite the challenges, he told Diyaruna.
"The Mosul municipality currently has only 30 waste and debris removal trucks as most of them were either stolen or destroyed by the terrorists," he said.
"We have brought back drinking water to the neighbourhoods of Sumar, al-Wehda and Palestine after activating al-Sahiroun water project," al-Abbar said, adding that work is under way to repair damages to the projects of al-Qusour and al-Qubba and start supplying water to the remaining neighbourhoods.
Rehabilitation work also is ongoing in the other service areas such as electricity, health and education, in co-ordination with the military forces, he added.
The local government has helped facilitate procedures for the payment of delayed salaries to employees of the ministries of education, municipalities and industry as a first step, al-Abbar said.
The priority lies now in rehabilitating basic infrastructure, he said.
Compensating affected residents
"After the situation stabilises and specialised courts are opened, state committees will be formed to compensate those whose businesses and property have suffered damage due to terrorism," he added.
ISIL has deliberately destroyed many infrastructure projects in Mosul after the heavy defeats it has sustained, Iraqi MP for Ninawa province Ahmed Madloul al-Jarba told Diyaruna.
"Reconstruction efforts are under way, but efforts must be redoubled and work stepped up as the area has just come out of war and the residents are in urgent need of services and humanitarian aid programmes," he said.
"Many Mosul citizens have had damage caused to their property and some of them lost their job or source of livelihood," he said, calling for a comprehensive plan to help all those that have been affected.
Between January 17th-26th, at least 10,000 internally displaced people (IDPs) returned to their homes in the areas of Gogjali, al-Samah, al-Zahra, al-Qadisiya and Aden, according to Ali Abbas, deputy head of the Iraqi Migration Ministry's IDP relief operations room in the Kurdish region.
"All those who have returned had been displaced to the camps of al-Khazir and Hassan Sham during the liberation operation, and once their neighbourhoods were recaptured, they opted to return promptly," he said.
About 60,000 IDPs are still living in those two camps, Abbas told Diyaruna.
Returnees have been provided with cooking and heating needs, blankets and food baskets to help alleviate some of their burden until they can fully resume their former life, he said.
0 COMMENT(S)