The Iraqi government has opened the door to Ninawa residents who want to volunteer their services to help maintain security in parts of the province liberated from the "Islamic State of Iraq and the Levant" (ISIL).
Since October 17th, when the operation to liberate Mosul began, more than 3,000 volunteers have joined the Ninawa police force, officials told Diyaruna.
"I volunteered in order to defend people and not allow ISIL elements to return and repeat their crimes against us," said al-Qayyarah resident Omar al-Jubury.
"Terrorists sowed death and destruction in every inch of our region, forced many to flee, and caused endless tragedies," he told Diyaruna. "I strongly wish to see everlasting security reign in my area and to see it prosper."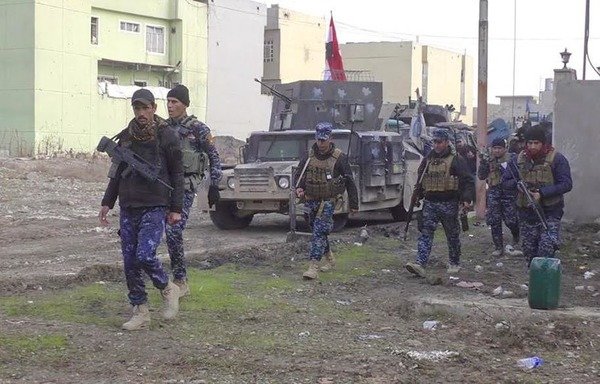 More than 3,000 volunteers from the liberated areas of Ninawa have so far joined the local police force, Ninawa provincial council security committee member Hassan Shubeib al-Sabawi told Diyaruna.
"They represent the first batch of volunteers, as the government plans to open the door to more volunteers as the liberation operations progress," he said.
The aim is to increase the size of the Ninawa police force from 12,000 to more than 30,000 personnel, he added, "to ensure their ability to perform their security duties properly".
Screening volunteers
The government has commissioned a security committee to vet potential volunteers, al-Sabawi said, noting that the committee has opened two offices, in al-Qayyarah and in Hamdaniya district to the south-east of Mosul.
Committee members "are currently conducting field visits to other districts in the province, such as Sinjar and Zummar, in addition to displacement camps, to register the names of those interested in volunteering", he said.
Volunteers will undergo intensive training to increase their physical readiness, proficiency in the use of weapons and various combat skills, he said.
Al-Sabawi stressed the importance of involving all components of Iraqi society in the protection of their regions, noting that greater efforts are being exerted to train and arm the Ninawa tribal forces .
"Local residents will have the biggest role in establishing peace and stability in their regions," said Ninawa tribal mobilisation spokesman Mahmoud al-Surji.
Their participation will be "an effective component of any security strategy" to maintain security and encourage the population to work together to rebuild their areas and erase all traces of terrorism, he said.
"It is necessary to increase the number of the local police force and enroll more tribal members," al-Surji said, adding that at least 6,000 tribal volunteers are currently fighting alongside the army and police forces to liberate Mosul.
An additional "8,000 people are ready to volunteer and waiting to be officially enrolled as local fighters", he said.
"Ninawa is Iraq's second largest province with an area of 25,000 square kilometres, which requires a large number of forces to secure it," he added.
Restoring services
The security situation in liberated parts of Mosul is stable due to the presence of a large number of army, police and tribal fighters, said Ninawa provincial council services committee member Hosam Eddin al-Abbar.
"As for efforts to restore services, we continue to work day and night to provide public services to the residents, especially after clearing the areas of explosives and ISIL remnants," he told Diyaruna.
In co-operation with the Ministry of Trade, the local government has delivered food to more than 20,000 families in liberated parts of Mosul, he said, and has provided them with relief from the Ministry of Migration and Displacement and international aid organisations.
"Seven health centres also were reopened in the neighbourhoods of Gogjali, al-Samah, al-Zahra, Cairo, al-Intisar, al-Nour and al-Bakr in the eastern half of Mosul," al-Abbar said.
Meanwhile, Ninawa Water Directorate teams have repaired the main drinking water lines that feed into these neighbourhoods, as work is ongoing to repair damaged transformers, wires and electric poles, he said.
"Life is gradually returning to the liberated areas of Mosul and residents are happy to be rid of terrorism," he said.