Security
|
2017-01-10
Anbar reinstates former police personnel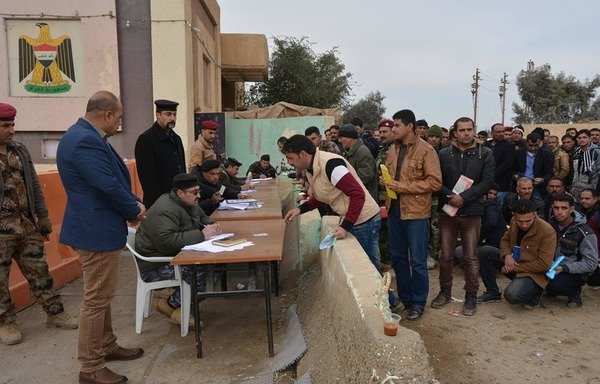 Inside al-Habbaniya military base, east of Ramadi, former policeman Mustafa al-Dulaimi waits with hundreds of other former security personnel to complete procedures to return to the ranks of the police.
Following a December 27th pardon issued by the Anbar Police Command, thousands of policemen who dropped out of service after the "Islamic State of Iraq and the Levant" (ISIL) overran the province are applying to return to duty.
Al-Dulaimi told Diyaruna the decision is a "lifeline" for him and his family.
"Thank God, this step has brought joy to my heart after much trouble," he said. "After I dropped out of work and my salary stopped coming in, I lived with my family in poor living conditions."
"We were displaced and without work," he said. "I had to sell everything I owned so we could provide for ourselves."
The pardon comes at the instruction of the Interior Ministry and Anbar police chief Maj. Gen. Hadi Kassar Erzaij, said Brig. Iyad Ahmed Hamid, head of the committee charged with returning Anbar police command members to service.
"It applies to all former Anbar police personnel who stopped working since January 1st, 2014, had their salaries discontinued, and were considered missing from service," he told Diyaruna.
Immediately after the decision was announced a committee was formed, under his leadership, that will register the names of those to whom the decision applies and verify their information in the police command's database, Hamid said.
After this process has been completed, he said, they will be allowed to return to their jobs.
Consolidating security and stability
"The process of implementing the decree is going smoothly," Hamid said.
"The committee and the security forces in al-Habbaniya base are carrying out their duties to the fullest, in order to enable eligible police personnel to quickly return to service and participate alongside their brothers in consolidating security and stability in all cities across Anbar," he added.
The decision was taken after several consultations and meetings the provincial council held with the Anbar police command and government officials, Anbar provincial council member Athal al-Fahdawi told Diyaruna.
"We urged on several occasions that this step be taken quickly, as it was urgently needed with regard to supporting stability in the province and the rule of law," he said.
Al-Fahdawi said the pardon signals that the province stands by a large segment of the Anbar population, and will end their suffering by restoring their jobs.
Following the security collapse in Anbar, particularly after ISIL overran Ramadi in April 2015, he said, "many police personnel were occupied with securing their families' lives from the threat of death at the terrorists' hands".
Many stopped coming to work under these circumstances, he said.
After they had found safe havens for their families, they wanted to return to their jobs, he said, but found their salaries had been suspended and their service had been terminated.
Al-Fahdawi expressed his hope that all police personnel who were dismissed from service and do not have any security violations recorded against them will be re-enlisted, in order for the province to reap the benefit of their abilities.
Beefing up police ranks
The pardon applies to all police personnel who went missing from service after ISIL invaded Anbar, Anbar provincial council security committee member Rajeh Barakat al-Aifan told Diyaruna.
"At least 10,000 former Anbar police personnel from all cities in the province, with no exception, are expected to benefit from [the pardon]," he said.
"Anbar police today includes 16,000 personnel, and that is not enough policemen to protect our province, which covers a third of the area of Iraq, with vast deserts and long borders with neighbouring countries," he said.
Returning these former policemen to duty would re-establish around 20 battalions, he said.
These will be deployed in police stations and at checkpoints to support security efforts and protect civilian lives and property, particularly in areas liberated from ISIL , he added.
In addition to enhancing security, he added, this also will have a major impact on the speed with which ISIL is driven from its last strongholds in western Anbar.