Though it has been employing increasingly desperate tactics to cling onto control in the last residential neighbourhoods of Mosul under its control, the "Islamic State of Iraq and the Levant" (ISIL) is doomed to fail, Iraqi officials say.
ISIL has stepped up its use of suicide bombers in a bid to slow the Iraqi forces' advance, said Joint Operations Command spokesman Brig. Gen. Yahya Rasul.
The group has been deploying snipers on the rooftops of inhabited houses, using residents as human shields against Iraqi fire, he told Diyaruna.
"The enemy has been forcing citizens out of their homes and taking cover among them to move between neighbourhoods," Rasul said.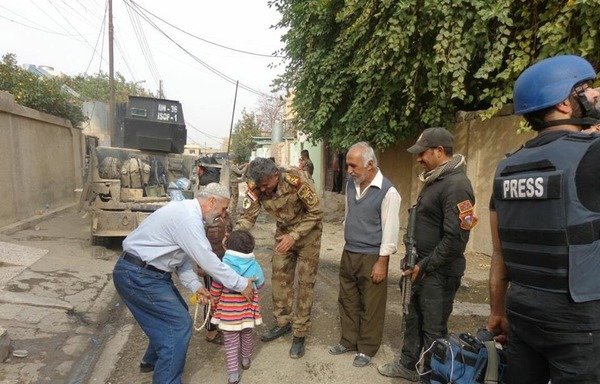 "We have come to expect the cowardly ways of terrorists, who are blowing themselves and their vehicles up in Mosul's streets and narrow alleys with complete disregard to civilian lives," he added.
Resolve to defeat ISIL
"We are faced with a criminal gang that will stop at nothing," Rasul said. "They know how careful we are in safeguarding civilian lives and are trying to play this card."
"However, they are crumbling and their resistance is gradually weakening. They have their ways and malicious tactics and we have the resolve to defeat them and protect our people," he added.
Despite these obstacles, the liberating forces have managed to seize control of many neighbourhoods in eastern Mosul, on the left bank of the Tigris, he said.
Iraqi commanders estimate that 40% of the eastern side of the city has been retaken in the offensive, which kicked off October 17th.
"Our soldiers have strong experience in urban warfare and our military intelligence is detecting the enemy's every movement and plan," Rasul said. "We soon will be entering the neighbourhoods on the right bank [of the Tigris] and reaching the centre of the city."
ISIL elements have been preparing for this battle for two years, since they overran Mosul, security expert and former Interior Ministry official Jassim Hanoun told Diyaruna.
"However, they are facing armed military units that are well trained in fighting in the bleakest of conditions," he said. "Furthermore, the local population rejects their presence and wants to get rid of them."
Desperate tactics
The military advance on Mosul has revealed that ISIL has deployed wooden replicas of armoured vehicles around residential neighbourhoods in order to mislead the security forces and Iraqi and coalition warplanes, Hanoun said.
Iraqi forces also have discovered an elaborate network of underground passages dug out by ISIL using bulldozers and hard labour from its prisoners.
"These tunnels, some of which reach from one area to another, were part of the militants' methods of defence, which also have been proven a failure," he said.
"After losing many of their human and combat resources, the terrorists' only choice now is to adopt the option of fighting from behind civilians and to drag our forces into clashes in populated areas in order to disrupt their advance," he added.
"Our forces are handling this tactic with extreme caution out of concern for the residents' safety and with greater readiness to surprise and attack the enemy," he said.
Battle progressing
On November 20th, the Ministry of Defence posted a video on its website showing military intelligence officials walking through the heart of Mosul in what it described as a bold, quality mission.
The city centre appeared half empty, but for limited civilian traffic around ISIL checkpoints.
"ISIL's influence in central Mosul is in decline and the organisation is throwing all of its weight into the fighting in the east of the city and on the other battlefronts," Ninawa provincial council deputy chairman Noureddine Kabalan told Diyaruna.
"The morale of the terrorists is very low and they are trying to lift it by spreading rumours among residents that they have regained control over areas they have lost, or by spreading false figures and incorrect news on the losses in the army's ranks," he said.
"The battle for Mosul is progressing despite all of ISIL's despicable tactics and its disregard for innocent lives," Kabalan said.