As they moved in to liberate Ninawa province villages and towns, Iraqi forces made a disturbing discovery in schools the "Islamic State of Iraq and the Levant" (ISIL) had used as military bases.
Amid the ruins of these buildings, members of the security services found textbooks the group had used to steer children into extremism through the use of violent teachings and images , Iraqi officials told Diyaruna.
The Joint Operations Command recently released photographs of ISIL textbooks Iraqi forces discovered during the offensive to liberate Ninawa province, which kicked off on October 17th.
These include treatises on mathematics, political sharia, Arabic and physical training that include texts and a teaching methodology designed to plant the seed of terrorism in young hearts, the command said.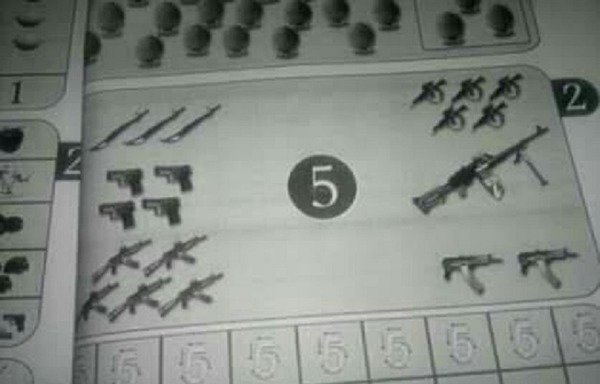 One bullet plus one bullet equals two bullets; and when one "martyr" blows himself up amid 10 "infidels" and kills seven of them, then the remainder is three, is an example of the kind of "lessons" in ISIL's textbooks.
One math problem reads, "Mohammed bought three rifles on Friday and four on Sunday. How many rifles in total did Mohammed buy?"
Another reads, "Yahya bought a rifle for one hundred and twenty thousand riyals and Malik bought bullets for twenty-six thousand and seven hundred riyals, while Ammar's father bought him a bullet belt for eight thousand and seven hundred and fifty riyals. Write in numerals what each one bought."
The police have come across hundreds of such texts and curricula that show the group's barbarity and its extremist approach, 1st Lt. Marwan Mustafa of the Federal Police press office told Diyaruna.
"ISIL has turned schools into bombing factories and bases for its military operations," he said.
Since these areas have been liberated, he added, the police have organised field tours for journalists in the Hamam al-Alil area so they can see firsthand the havoc the group has wreaked on the educational sector.
Teaching children to kill
In addition to filling children's brains with perverse arithmetic, ISIL forced them to watch its mass executions in public squares, said Sheikh Nazhan al-Lahibi, who leads the tribal mobilisation forces in southern Mosul.
"Some ISIL elements train children to shoot fire arms with live ammunition and conduct beheadings, and train them as street fighters as they attempt to turn children into future terrorists and professional murderers ," he told Diyaruna.
The current situation is even more dire, he said, as the group has forced many boys to fight in the battle for Mosul, while others have been taken with their families to undisclosed locations to be used as human shields.
"We still do not know the fate of entire families with their children, elderly and women, which the group took to unknown places," al-Lahibi said. "We thought they had been detained in Tal Afar or al-Raqa, but our intelligence revealed that they are not there."
Government solutions
The Ministry of Education is aware of the many crimes ISIL has committed against childhood and education in the province, according to the parliamentary education committee, and it is working to address all possible solutions.
Over the past two years, many parents in Mosul have stopped sending their children to school, said Iraqi MP Sajida al-Afandi, who serves on the committee.
The ministry is working with the committee to resolve the crisis "based on a two-tiered approach", she said.
The first involves an awareness campaign to put an end to the propagation of extremist ideology targeting children in the province, and to begin to offer them psychological rehabilitation, she said.
The second involves returning children to school to compensate for the two lost years of schooling, she added.
This would be done through placement tests that would determine which grade children should be placed in, she said, or by providing them with intensive lessons and evening classes according to their grade and educational level.