Security
|
2016-11-07
Iraqi forces retake key town on Mosul southern front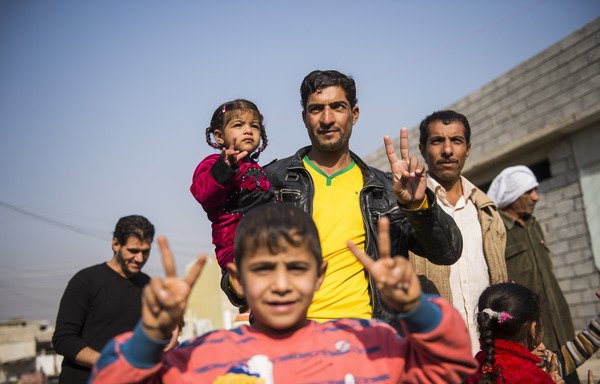 Iraqi forces retook a key town from the "Islamic State of Iraq and the Levant" (ISIL) Monday (November 7th), a crucial objective on the southern front of the offensive to wrest back the city of Mosul.
Federal police, army and elite interior ministry forces established full control over Hamam al-Alil, the last town of note on the way to Mosul from the south, AFP reported.
It lies on the west bank of the Tigris river, about 15 kilometres south-east of Mosul.
Iraqi forces have already entered Mosul from the east and were moving close to the city limits from the north on Monday but have some distance to cover on the southern front.
Life quickly resumed in Hamam al-Alil, with some residents re-opening shops and others bathing in the town's sulphur springs.
Soldiers could be seen helping some displaced civilians with their bags.
An officer with the federal police said clearing operations would continue around Hamam al-Alil before all the forces regroup to conquer the last stretch before Mosul.
The next phase is "to clear the other villages around the town and then move forward towards Mosul to liberate it, God willing", Col. Amjad Mohammed said.
Meanwhile to the north of Mosul, Iraqi Kurdish forces launched an assault on the town of Bashiqa early Monday, said Maj. Gen. Bahram Yassin, a commander of the peshmerga forces in the area.
"Our forces began an attack on ISIL gunmen remaining in the centre of the Bashiqa (area) this morning at 6:00 a.m.," he said. "We have been besieging them in the centre of the town for more than two weeks."
Targeting al-Raqa
On Sunday, Kurdish-Arab forces launched an offensive on ISIL's de facto Syrian capital al-Raqa.
Syrian Democratic Forces commanders announced the start of the al-Raqa operation in Ain Issa, some 50 kilometres north of the city.
"The major battle to liberate al-Raqa and its surroundings has begun," SDF spokeswoman Jihan Sheikh Ahmed said.
Operation "Wrath of the Euphrates" involves some 30,000 fighters and began on Saturday night, Ahmed said.
The SDF are advancing on three fronts, from Ain Issa and Tal Abyad to the north of al-Raqa, and from the village of Makman to the east.
Forces would first seize areas around al-Raqa before taking the city itself, SDF spokesman Talal Sello told AFP.
"The fight will not be easy, and will require accurate and careful operations because ISIL will defend its bastion knowing that the loss of al-Raqa will mean it is finished in Syria," Sello said.
0 COMMENT(S)