Although al-Nusra Front (ANF) has in recent months attempted to rebrand itself as a moderate opposition group by renaming itself Fatah al-Sham Front and breaking its ties with al-Qaeda, a new merger calls these moves into question.
In an October 9th statement signed by both sides, ANF announced that Jund al-Aqsa, a radical group with its own ties to al-Qaeda, would be joining its ranks .
This move demonstrates that despite what it claims, ANF remains an extremist group, experts told Diyaruna, noting that it also reveals how groups like ANF are racing to subsume less-powerful groups as their power and influence declines.
The announced merger also is a desperate attempt to quell infighting among allied opposition groups, they said, noting the recent violent clashes that have erupted between ANF and Ahrar al-Sham.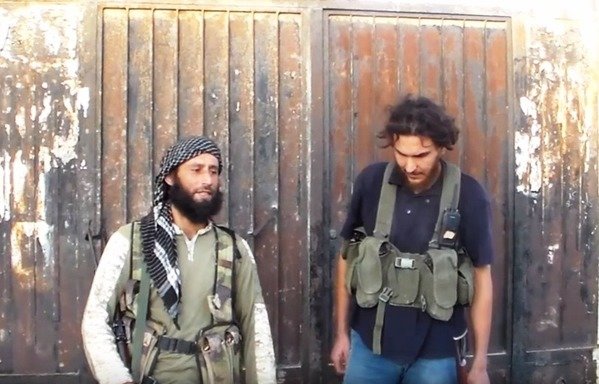 Interwoven roots
Jund al-Aqsa, which has been designated as a terror group by the US State Department, was originally a sub-unit of ANF. It later split off from the parent group, but has remained openly aligned with ANF.
Jund al-Aqsa is an "extremist armed group that espouses salafi jihadism" and previously announced its allegiance to al-Qaeda in the Arabian Peninsula (AQAP), Syrian journalist Mohammed al-Abdullah told Diyaruna.
The group surfaced in Syria in mid-2012, he said.
It was founded by Mohammed Yousef al-Othman, also known as Abu Abdulaziz al-Qatari, "who had fought in Afghanistan, and was close to former al-Qaeda leader Osama bin Laden and current leader, Ayman al-Zawahiri", he added.
Al-Qatari also fought in Chechnya, later returning to Iraq to form a group that carried out bombings before going on to found, with Abu Musab al-Zarqawi, the Tawhid wal Jihad Brigades in Iraq.
At the outbreak of the Syrian conflict, al-Qatari moved across the border, co-founding ANF with Abu Mohammed al-Joulani, he said, adding that al-Qatari then split from ANF to found Jund al-Aqsa, initially known as Saraya al-Quds.
This group gained force in rural Hama and Idlib, al-Abdullah added.
Split with ANF
Jund al-Aqsa is now led by Abu Diab al-Sarmini, al-Abdullah said, adding that the emergence of the "Islamic State of Iraq and the Levant" (ISIL) was a turning point for the group, as a large number of its elements joined ISIL.
"When clashes broke out between ANF and ISIL in 2014, [Jund al-Aqsa] announced it was adopting a neutral stance, and fully seceded from ANF," he said.
In November 2014, al-Qatari's body was discovered in a mass grave near a Syrian Revolutionaries Front post. Jund al-Aqsa and ANF waged a fierce battle in retaliation that succeeded in knocking out the group.
Jund al-Aqsa's recent merger with ANF "does not come as a surprise, because it was part of ANF at its inception before breaking away from it", said Egyptian military analyst and retired army officer Maj. Gen. Abdul-Karim Ahmad, who specialises in the affairs of al-Qaeda.
Jund al-Aqsa's October 2015 split from Jaish al-Fath, a coalition that includes ANF, is mainly due to its disputes with Ahrar al-Sham, he told Diyaruna, noting that Jund al-Aqsa never fought ISIL.
"The battles that broke out between Jund al-Aqsa and Ahrar al-Sham movement are a strong indication of the course of events in the upcoming period," he said, noting that infighting has increased amid financial and military pressures.
True colours
ANF's absorption of Jund al-Aqsa goes against its efforts to portray itself as a moderate opposition faction , Ahmad said.
"Given Jund al-Aqsa's history and background of its founders, it can be said that it follows a hybrid ideology that combines ANF's and ISIL's ideologies," he said.
This explains why al-Joulani sought to subsume it into his ranks, he said, "particularly in view of the combat creed of most of its elements that is grounded in fierceness, suicide and self-immersion in enemy ranks".
ANF's move also is designed to prevent Jund al-Aqsa elements from pledging allegiance to ISIL, he added.
"Jund al-Aqsa is one of the most extreme Islamist factions and is often likened to ISIL," said Mohammad al-Khalid of the Saraqeb co-ordination committee, which is affiliated with the Local Co-ordination Committees of Syria.
The group recently announced it has begun to apply its harsh interpretation of sharia in the areas it controls in Idlib and Hama, he told Diyaruna, and has been known to target Christians.
Jund al-Aqsa's absorption by ANF signals a change of course for the parent group, as with this alliance it can no longer claim to be part of the moderate opposition or deny its links with al-Qaeda.