The liberation of Ramadi Island in Anbar has put a decisive end to any plans the "Islamic State of Iraq and the Levant" (ISIL) might have to return and once again threaten the security of Ramadi and Fallujah, Iraqi officials tell Diyaruna.
The Ministry of Defence's October 6th announcement that Iraqi forces had succeeded in driving ISIL from the whole of Ramadi Island has paved the way for the group's full elimination in the province, they said.
The operation, conducted by units from the Iraqi army's 10th Armoured Division backed by tribal mobilisation fighters, has completely removed the threat that ISIL will return, said Anbar Operations Commander Maj. Gen. Ismail al-Mahalawi.
Ramadi Island, which includes the areas of Albu Diab, Albu Ali Jassim, Albu Assaf and Tarabsheh, is now under the control of Iraqi and tribal forces, he told Diyaruna, adding that ISIL no longer has any presence in these areas.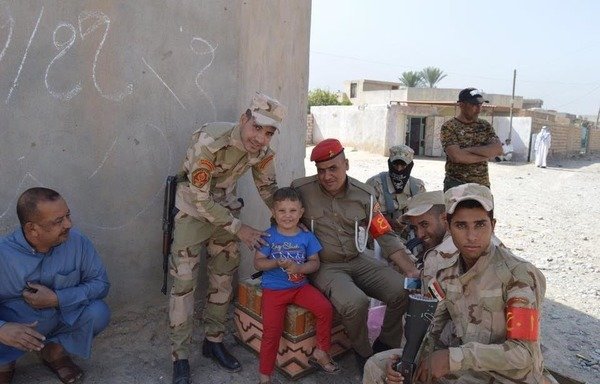 "The area was of strategic importance to ISIL, as it served as a supply line and a conduit through which the group was able to move its fighters from al-Qaim and Mosul to Ramadi and Fallujah," he said.
It also served as an important transportation node, he said, as it linked the group's former areas of influence in Anbar and Salaheddine provinces.
The restoration of Ramadi Island and Heet Island to the state means there is no longer any ISIL presence in Anbar, except in limited narrow bands on the upper Euphrates River in the towns of Rawa, Anah and al-Qaim, he said.
These areas will be liberated consecutively by al-Badiya and al-Jazeera Operations Command, he said.
During the operation to liberate Ramadi Island, al-Mahalawi said, Iraqi and tribal forces killed more than 120 ISIL fighters, while others fled to Heet Island and from there to Rawa and Anah.
Most residents of these areas had been displaced before the battle began, he said, with the exception of up to 250 families of villagers and cattle herders who remained in the area and who have since passed security background checks.
Restoring stability to Ramadi Island
To ensure security is fully restored, all fighters who belonged to ISIL must be pursued and brought to justice in order to receive fair punishment for what they have done, said Anbar tribal council chairman Sheikh Rafi Fahdawi.
He called on the Iraqi government to support the tribal mobilisation fighters who contributed to the liberation of Ramadi Island and bring them together under a unified command so they can support the Iraqi forces in maintaining security.
Fahdawi also urged the government to speed up the re-opening of the area's police stations, which would restore 15,000 jobs and help to maintain security.
As with other liberated cities in the province , there will be operations to reconstruct Ramadi Island and restore stability after the process to remove explosive remnants of war has been completed, Anbar provincial council member Karim al-Karbouli told Diyaruna.
The island is not as badly damaged as the city of Ramadi, he said, adding that schools, homes and private property can be reconstructed in a short time.
Anbar has not yet received its allocation for the regional development plan from the federal budget, he said, adding that the release of these funds could accelerate operations to rebuild the liberated areas.
Al-Karbouli praised the financial support provided by civil society organisations and international organisations, including the UN, for the reconstruction of affected areas, including Ramadi Island.