As the "Islamic State of Iraq and the Levant" (ISIL) continues to control al-Raqa, thousands of children are being deprived of an education, local activists and educators warn.
The group has shuttered dozens of schools and imposed its violence-ridden curriculum on the remaining ones, they say.
About 100 schools that closed four years ago remain shuttered, said Abu Mohammed al-Raqawi, an activist with al-Raqa is Being Slaughtered Silently (RBSS).
"About 36,000 primary school students, 15,000 elementary school students and 12,000 middle school students are out of school," Asharq al-Awsat newspaper quoted him as saying September 15th.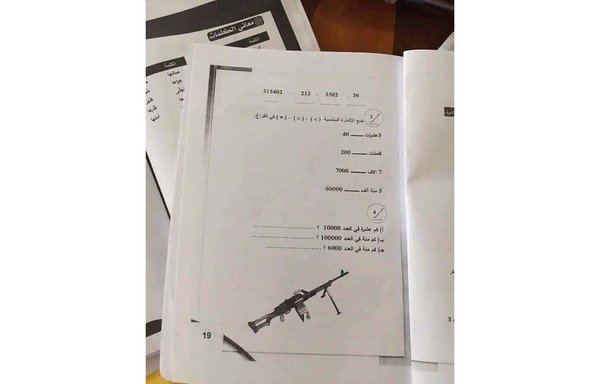 He added that thousands of children, the war generation, have reached the age of nine without ever having attended school.
Al-Raqawi noted that there are individual attempts by former teachers and activists to tutor groups of children so they at least learn to read and write.
Since ISIL seized al-Raqa in 2014, the group has issued decrees almost daily, ordering the closure of schools, the modification of certain subjects and the canceling of others on the grounds of apostasy, according to RBSS.
The group also forced educators in the city to take "repentance" courses and pledge not to teach the old curriculum, al-Raqqawi said.
ISIL-enforced indoctrination
Syrian teachers in al-Raqa and other areas suffering under ISIL's control told Diyaruna that many parents now prefer to keep their children at home rather than enroll them in schools run by ISIL.
Nasser al-Ali, a teacher and native of al-Raqa, said many parents, to protect their children from ISIL's ideas, refrain from sending them to school and secretly tutor them with the help of teachers who remained in the area.
Al-Ali, who asked to use a pseudonym for safety reasons, told Diyaruna that the books ISIL uses "aim to brainwash the minds of children and turn them into killing and crime machines".
They do not intend to impart children with knowledge "the way [education] is supposed to be", he said.
Al-Ali said he reviewed ISIL's curriculum and textbooks distributed in al-Raqa and found them to be a far cry from sound educational curricula.
He found that only 10% or less can be considered good educational information that should be included in the curricula of primary and elementary grades.
"The aim of ISIL's curriculum is clear: to build a new generation of Syrian youth that only knows ISIL's teachings, from killing to declaring as infidel anyone who opposes their views," al-Ali said.
New generation of fighters
The closure of schools and confining education only to schools fully administered by ISIL has been the group's modus operandi for the past two years, said Basima Husni, a sociology professor at Cairo University.
"The seriousness of this matter is exacerbated the longer ISIL is in control and continues to raise new generations in this fashion," she told Diyaruna.
According to Hosni, the youngest children in al-Raqa are most at risk, such as primary school students who have not known any other form of education.
They are either not in school or attend ISIL schools where they are raised on the group's ideas, "which they perceive as correct because there is no real alternative", she said.
ISIL's aim is to "roll out its own curricula in order to build a new generation of fighters who are completely loyal to it ", she said.
In addition, the group aims to instill its ideology into the minds of young girls "to encourage them to marry jihadists and bear children who will be more dangerous than any previous generation", she said.
Shuttering schools in Yarmouk camp
"After the ISIL group extended its control over large areas of the Yarmouk refugee camp, it began to apply what it did in al-Raqa and Deir Ezzor on a full scale," said Majid al-Homsi, a retired teacher from al-Raqa who lives at the Damascus-based Yarmouk refugee camp.
"It shut down all schools in the camp except for two, one for boys and another for girls, in which children study the group's curricula," he told Diyaruna.
ISIL elements collect fees from well-off parents, while they teach other children free of charge and deliver food aid to some of the parents to entice them to send their children to the group's schools, he said.
However, camp residents reject ISIL's measures and many parents refrain from sending their children to school out of fear of ISIL's ideas, al-Homsi added.
"The total number of schools in the camp used to be more than 20, and they received support from educational and social organisations in the camp," he said.
These organisations sought to preserve education at the camp, he said. "However, that changed when ISIL seized control."