Security
|
2016-09-29
Iraq clears ISIL mines from al-Khalidiya island
By Alaa Hussain in Baghdad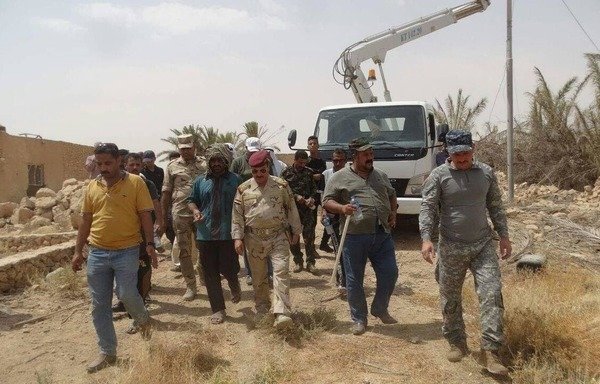 One month after al-Khalidiya island was liberated from the "Islamic State of Iraq and the Levant" (ISIL), Iraqi forces are working to remove explosive remnants of war from the area to enable residents to return, officials tell Diyaruna.
After mines, improvised explosive devices (IEDs) and other debris from the battles has been cleared, services will be restored to the island, they said.
Iraqi forces recaptured al-Khalidiya island on August 27th after a fierce battle that lasted 28 days, in which ISIL lost more than 1,200 fighters .
Iraqi army and engineering teams have already started removing IEDs, mines and war remnants from al-Khalidiya island, Anbar tribal mobilisation deputy commander Maj. Gen. Ahmed al-Bilawi told Diyaruna.
"Work is progressing at a high pace and half the area already has been secured," he said.
"It is only a matter of days before all work to clear the island of war remnants is completed," he said, after which emergency units from the Anbar police and tribal mobilisation forces will assume control of the security situation.
This will allow the army forces to move to new areas still under ISIL control.
"ISIL terrorists have booby-trapped most streets and houses in the area, causing heavy damage to nearly half the buildings there," al-Bilawi said, referencing a report by a special UN team that recently visited the island.
A swift removal of war remnants and restoration of services will expedite the safe return of displaced citizens to their liberated area, which until recently has been an ISIL stronghold and a key base for their movements, he said.
Restoring services
Municipal teams will start working to restore services in the area as soon as the last explosive remnants of war are removed, said Anbar provincial council services committee head Rajeh Barakat.
Municipal vehicles and technical personnel will work to remove debris, open roads, rehabilitate drinking water systems, repair electrical towers and secure energy lines leading from Baghdad to the island, he told Diyaruna.
This will be a large undertaking in al-Khalidiya island, he said, "due to the agricultural nature of the area, which will require an exceptional effort by the municipal directorate in the province".
The Ministry of Construction, Housing and Public Municipalities has pledged to provide machines and technicians from other provinces to ensure the work can be completed as soon as possible, Barakat said.
"The local government in Anbar aims to obtain financial support from the Ministry of Migration and Displacement and international organisations to restore stability in al-Khalidiya island and prepare for the return of its displaced residents as soon as possible," he added.
New police station
The Interior Ministry has opened a police station in al-Khalidiya island, "which will work in advance to produce security clearances for displaced families before they return to the area", said al-Khalidiya district municipal council head Ali Daoud.
"The station will work to register civil actions against terrorists and investigate various criminal cases within its jurisdiction," he told Diyaruna.
Al-Khalidiya island will be ready to receive displaced families "after the terrorists are identified and denied entrance to the island", he said.
0 COMMENT(S)