On September 12th, the first day of Eid al-Adha, "Islamic State of Iraq and the Levant" (ISIL) released a video that shows its fighters slitting the throats of 19 alleged "spies" in the Syrian town of Deir Ezzor and hanging them upside down from meat hooks, in a manner employed by butchers with sheep.
In the video, ISIL claims the victims had been operating under a man named Haidar Mohammed al-Abdullah, who resides in Turkey.
ISIL claims al-Abdullah was a security officer with the former al-Nusra Front (ANF), now known as Fatah al-Sham Front, before joining a Kurdish militia and subsequently becoming an agent for the international coalition.
Activist group al-Raqa is Being Slaughtered Silently described the clip as the "worst video" it had seen.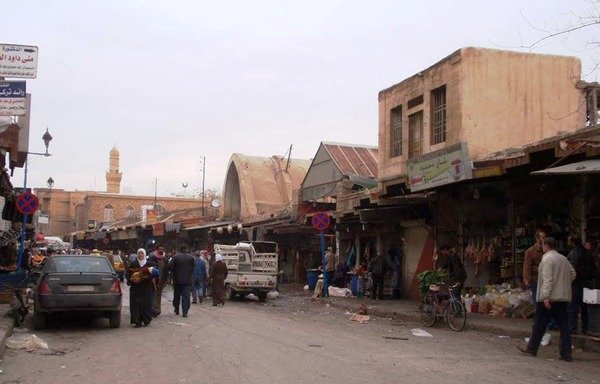 Desecrating an Islamic holiday
"ISIL once again confirms it violates all human and religious values," said Al-Azhar cleric Sheikh Abdel Moneim Mohammed, imam of al-Nour mosque in al-Maadi.
ISIL is a bloodthirsty group that "does not differentiate between Muslims and non-Muslims so long as it sheds blood", he told Diyaruna.
The video released on Eid is a deliberate desecration of the feast day and its rituals, which have been observed by Muslims for hundreds of years, he said.
"The mere treatment of humans as animals is a major unforgivable sin, particularly as the citizens were slaughtered like cattle," Mohammed said.
"It is alien to the rituals and customs of Islam to offer human sacrifices," he said, noting that ISIL's actions deliberately distort Islam.
"ISIL intentionally robs citizens living in the areas under its control of joy and has previously banned [taraweeh] prayers and all joyous rituals," he said.
Many imams denounced the incident in their Eid sermons, he added, stressing the "brutality of the group" and assuring their congregations that Egypt's Dar al-Iftaa strongly rejects ISIL and its ideology.
The Dar al-Iftaa al-Fatwa Observatory issued a statement condemning the video, stressing that according to sharia, "killing one soul is equivalent to killing all of mankind".
Terrorising Deir Ezzor residents
ISIL chose to conduct this "heinous act" in Deir Ezzor in an attempt to terrorise residents and assert its control following the many setbacks it has suffered there lately, said Mahmoud Nader, an activist with the Deir Ezzor Under Fire media campaign that documents ISIL abuses in the region.
"ISIL is retreating from many of the areas in which it had a presence," said Nader, who asked to use a pseudonym out of concern for his safety.
Deir Ezzor residents are known for their strong tribal affiliations, he said, adding that after ISIL tried to forcefully recruit their young men they began smuggling them out of the province.
This has been a cause of concern for the group, he said, noting that al-Akaidat tribe is among those whose members have been defecting from ISIL.
"Two of the most prominent recent defectors are Mohammad and Karim al-Rafdan of al-Akaidat tribe," he said. "They were forced to fight in ISIL's ranks and their escape had a significant impact on residents."
In August 2014, in Deir Ezzor's Abu Hamam, al-Kashkiyeh and Ghranij, ISIL executed around 700 members of the Shaitat tribe after the tribe opposed it and refused to swear allegiance to the group.
Mourning in place of celebrations
ISIL's latest video "robbed the joy of Eid from residents who were horrified by the scenes in it", said Ali Saeed, a merchant and resident of al-Mayadeen who asked to use a pseudonym out of fear for his safety.
The holiday's festivities disappeared and mourning prevailed across most of Deir Ezzor, he told Diyaruna, as those who were slaughtered belonged to various tribes and families that are widely known in the area.
"Resentment against ISIL prevails among residents," Saeed said, adding that the timing of the killings will haunt the people of Deir Ezzor for a long time.
"This execution adds to the list of great injustices suffered by residents at the hands of the group's elements, amid the stifling financial and psychological clampdown on them," he said.
Many of the area's merchants have declared bankruptcy, he said, while others fled to save their families and whatever money they have left.
ISIL has confiscated the properties of those who fled, rented out their shops and used their homes to house its own fighters and their families, who are fleeing from the areas the group is losing, he said.
"The group also has turned some of the houses, particularly those inside the city, into security headquarters," he added.